ZEISS VR ONE Trays Up With Galaxy S6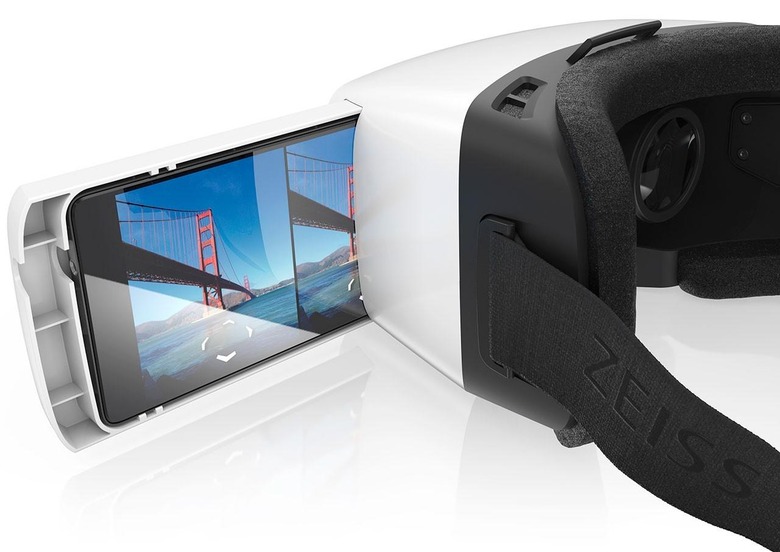 The optics masters at Zeiss have revealed that they're expanding compatibility of their ZEISS VR ONE virtual reality headset to include the Samsung Galaxy S6. This means the Samsung GearVR won't be the only device to work with the Galaxy S6 for virtual reality with more than the bare minimum VR action – Google Cardboard, that is. The availability of Galaxy S6 compatibility is added here with a new tray that slides in to the VR ONE from the side. This is just the latest in a tray line that allows compatibility for a number of devices for the ZEISS VR ONE.
The ZEISS VR ONE mobile VR headset allows devices with display sizes between 4.7-inches and 5.2-inches to enter the virtual reality environment. Using a wide variety of apps available in app stores today – as well as the ZEISS VR portal – users are able to bring their smartphone into a new realm of possibilities.
ABOVE: That's a generic "smartphone" device in a tray with the VR ONE. The finalized Galaxy S6 tray will fit the Galaxy S6 precisely.
According to ZEISS, "The high-quality ZEISS lenses ensure that the VR headset always provide the right optics for virtually all users."
"Complicated manual configuration, e.g. interpupillary distance, is not required. Plus the ZEISS VR ONE is also suitable for eyeglass wearers."
We'll see about that when we get our hands on this headset in the near future. Stay tuned for such a hands-on experience.
This headset will cost users $129.00 USD with one tray. Ordering through ZEISS' VRONE.US portal online has you choosing one of several trays from the outset: iPhone 6, Galaxy S5, or Galaxy S6. Individual trays can also be purchased separately for $9.90 USD.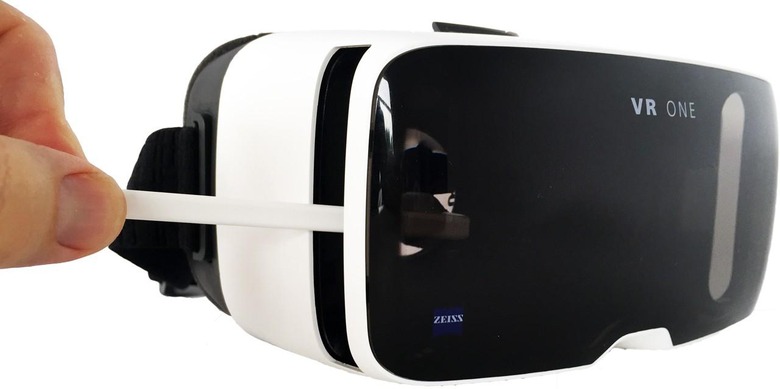 ALSO: One place where ZEISS excels – outside of their camera lens business – is in keeping glass clean. They've got a "Lens cleaning swab for ZEISS VR ONE" that allows you to get in under the front – clean it up, keep your eyes undistracted by dust!