Yuneec Breeze 4K selfie drone first-impressions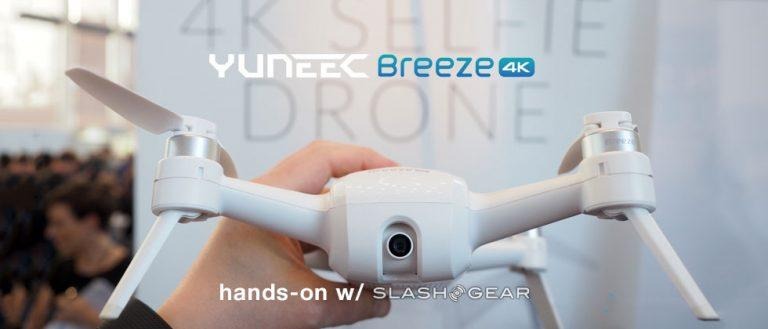 The Yuneec Breeze isn't something we necessarily expected to see flying around Berlin this week at IFA 2016. But here it is, a drone made for taking photos of and video recording us out and about, the photos ringing in at 13-megapixels large and the video able to be recorded at 4K. The drone itself doesn't look like the safest for us to, for example, get our fingers jammed up into – but the Yuneec representatives here assure us that their "Safe Flying" measures will keep flight safer than most.
Yuneec drones, they say, are fitted with software that prevents them from flying anywhere they shouldn't. Most of the time. They cannot fly within national aviation authority designated No-Fly Zones. They also cannot fly above 400ft from the ground.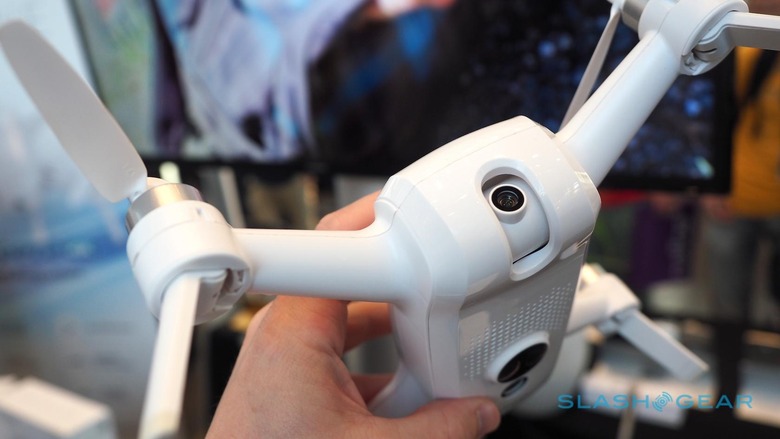 Fingers are protected from the four propellers on this drone by four custom-made propeller protectors.
Yuneec representatives suggest we "always keep these on when flying indoors."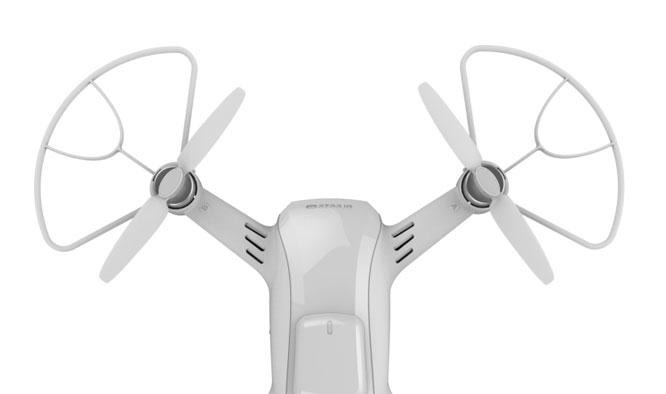 To be as compact as possible, these propeller protectors can be removed, and the propellers themselves are able to be folded up to the point at which the drone is more or less the shape of an X. This drone also includes a carrying case right out the gate.
This drone doesn't LOOK like it's going to be able to survive a baseball bat to its center – it's not necessarily made for heavy-duty warzone-like conditions. But it is surprisingly robust for a drone that costs as much as it does.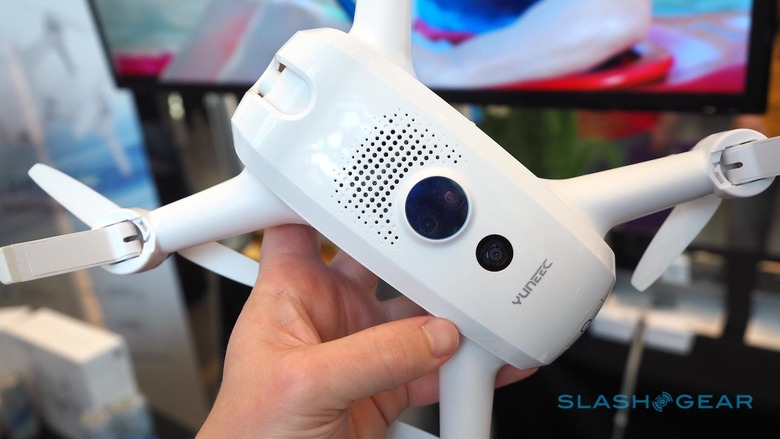 We still need to get our hands on this drone out in the wild to be able to give it a full judgement for video and photography, but the results we've seen so far have been fairly impressive.
With its connected Breeze Cam App, the Yuneec Breeze is able to work with a variety of automatic creative modes.
• Selfie Mode keeps the drone in a single place, facing the user.
• Pilot Mode allows full manual controls.
• Orbit Mode has the drone circle any object.
• Follow Me Mode makes the drone follow the user's smartphone with GPS.
• Journey Mode uses camera pitch to allow the user to make and view a trajectory for the drone to fly, reach a designated spot, and fly back to the user.
Yuneec employs what they call their Indoor Positioning System (IPS) to hold the Breeze drone in place either indoors or out.
When available, this drone will retail at $499 USD at retailers nationwide.
UPDATE: While this drone was just introduced to the world this week, the company has made an effort to make it available for anyone to buy throughout the United States right this minute. Retailers throughout the USA will quite likely have this drone in stock by the end of the week – but call ahead to be sure.