YouView IPTV DVR detailed: launching 1H 2011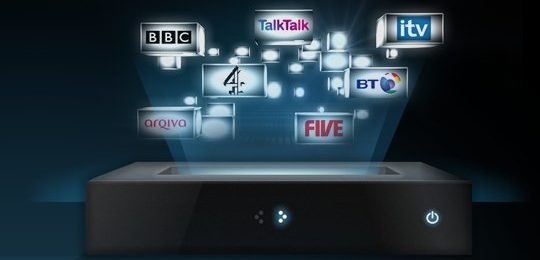 UK digital content partnership Project Canvas has spawned its commercial service, YouView, promising to bring IPTV to British households through a new set-top box.  Backed by the BBC, ITV, Channel 4 and Channel 5 – as well as BT, TalkTalk and Arqiva – the YouView service will support catch-up streamed TV, pay-per-view on-demand content and a DVR for regular free-to-air Freeview digital TV broadcasts.
Hooked up to both an aerial and a broadband connection, the STB itself – the hardware details of which are yet to be confirmed, though a preliminary specification has been published [pdf link] – is likely to be available from multiple providers, just like Freeview DVRs at present.  It will include both IPTV and twin-tuner Freeview technology, a digital program guide, USB 2.0, ethernet (and optionally WiFi b/g/n), an HDD at least 300GB in size, HDMI and SCART, a digital audio output and be passively cooled for fanless operation.
The platform will be open to developers, too, who will be able to code Linux apps to run on the YouView boxes.  We wouldn't be surprised to see basics like a YouTube viewer built in from the start, however, and the system will be able to make recommendations of free, catch-up and pay-per-view content depending on what the viewer is watching at the time.
YouView expect to have the first boxes on the market in the first half of 2010, manufacturers and regulatory hurdles depending, and predict both standalone STBs and YouView-integrated HDTVs on offer.  No word on what sort of pricing we can expect, but there's talk of ISP subsidized hardware too.
[via FT]