YouTube Rewind 2019 tries to be fair, but is it?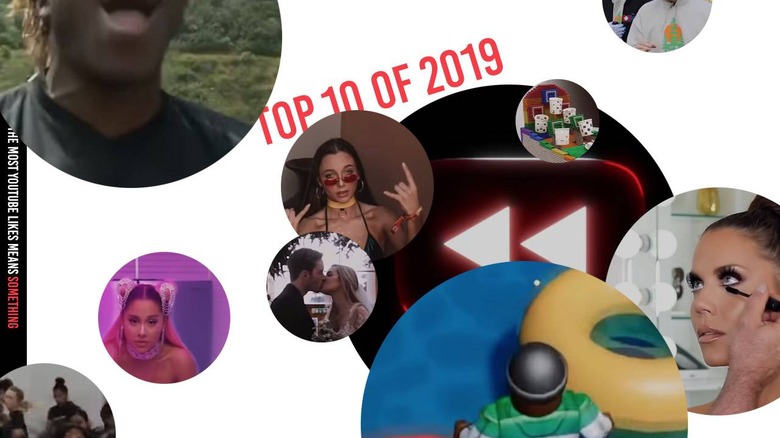 Today we're taking a peek at the newest YouTube Rewind, the YouTube Rewind 2019. This year's video shows the most-liked videos of the year 2019 with as little curation as possible. That comes with a few caveats, the first of which is "geo-restricted content." Per YouTube, the list of most-liked Creator Videos includes videos uploaded in 2019, with "geo-restricted content that would prevent Rewind from being viewable globally" removed from the list.
YouTube Rewind 2019 top 10 categories include Most Liked Creator Videos, Most Liked Music Videos, Most Liked Dance Videos (only top 5), Most Viewed Games (top 5), Most Liked Beauty Videos (top 5), and Top Breakout Creators. There was also a Most Viewed Creators category, and a note from the curators of the lists:
"Beyond our top lists," said a YouTube representative, "We considered regional milestones and records, videos that drove the most social conversation, and trends that emerged in 2019 in order to incorporate additional videos, creators, and artists from the year."
Most Liked Creator Videos on YouTube 2019
The filtering of the content from YouTube's first major list (of the many in this year's Rewind) suggests that it's focused primarily on Likes. "This list was generated by ranking the most liked videos uploaded in 2019," said the 2019 YouTube Rewind listing. "The results were reviewed and filtered to ensure relevance for the core Rewind viewership demographic (historically 16+)."
1. MrBeast, Make This Video The Most Liked Video On Youtube
2. PewDiePie, Marzia & Felix – Wedding
3. Whindersonnunes, O DIA EM QUE ASSISTI BIRD BOX
4. Black Gryph0n, ONE GUY, 54 VOICES
5. Nilson Izaias Papinho Oficial, Minha slime deu certo
6. SethEverman, how to create billie eilish's "bad guy"
7. James Charles, No More Lies
8. Andymation, My BIGGEST Flipbook EVER
9. A4, ПОКУПАЮ ВСЁ ЧТО ТЫ МОЖЕШЬ УНЕСТИ ИЗ МАГАЗИНА !
10. Shane Dawson, Conspiracy Theories with Shane Dawson
Rules for Creator top list include videos made by individuals – this means no media company content and no music artists. The rules state: "videos judged to be from channels such as media companies or music artists were excluded."
Most Viewed Creators on YouTube 2019
The list that comes next is very similar to that of the top creator videos, but here ranks the channels by total views in the first 10 months of 2019. Much like the list above, this list excludes media companies, networks, and music artists.
1. PewDiePie
2. Felipe Neto
3. Pencilmation
4. Jelly
5. David Dobrik
6. Dude Perfect
7. MrBeast
8. LazarBeam
9. Fischer's-フィッシャーズ-
10. Azzyland
Top Breakout Creators on YouTube 2019
In 2019 a list was generated for channels with a first public upload on or after January 1st, 2019, with the most NET subscribers. That's the subscribers they've gained minus the subscribers they lost, all in 2019. You'll see a trend right out the gate.
1. LOUD
2. 워크맨-Workman
3. Paik's Cuisine
4. Magnet World
5. Noah Schnapp
6. Jennelle Eliana
7. 하루한끼 one meal a day
8. LOUD Coringa
9. LOUD Babi
10. Shoaib Akhtar
This list excluded channels/creators that appeared to be a 2nd channel for a given creator "where the creator's original channel launched prior to 2019". The same exclusions of media companies, networks, and music artists were enacted here as above.
Most Liked Beauty Videos 2019
The Most liked Beauty Videos had to have been uploaded in the year 2019 and were "associated with" the following three terms: "beauty," "beauty tips," and "cosmetics." These were then further curated so as to exclude any tricksy interlopers that used those terms to promote their videos about unrelated nonsense.
1. James Charles, Makeup Tutorial en Español
2. Shane Dawson, The Beautiful World of Jeffree Star
3. Kylie Jenner, Kylie Jenner: A Day in the Life
4. jeffreestar, Kylie Skin Review with Shane Dawson
5. Anaysa, 7 Life Saving HACKS for Perfect SKIN & HAIR
Most Viewed Games 2019
This very short list blew the rest of the games in the universe away. The list was generated by YouTube by "summing the view counts across all 2019 videos associated with a particular video game or video game series, and then ranking by most viewed."
1. Minecraft
2. Fortnite
3. Grand Theft Auto
4. Garena Free Fire
5. Roblox
Most liked Dance Videos 2019
This list was generated from the most liked videos uploaded in 2019 with the word "choreography" in the title. Music artist rehearsals were excluded, and one choreographer could only appear once on the list.
1. ChapkisDanceUSA, Con Calma Choreography
2. Awez Darbar, O SAKI SAKI | Awez Darbar Choreography
3. 1MILLION Dance Studio, gogobebe(고고베베) – MAMAMOO(마마무)
4. Team Naach, O SAKI SAKI Choreography
5. Galen Hooks, Bury a Friend Choreography ft. Maddie Ziegler, Charlize Glass
Most Liked Music Videos 2019
YouTube had to do some serious work here, making sure they removed all music artists from the rest of their topmost liked and/or viewed lists. Be sure to note that this is not the most liked musical artist, but the most liked music videos – there is no most liked musical artist list as such.
1. Shawn Mendes, Camilla Cabello, Señorita
2. BTS, Boy With Luv feat. Halsey
3. Blackpink 'Kill This Love
4. Billie Eilish, bad guy
5. Lil Nas X, Old Town Road ft. Billy Ray Cyrus
6. Ariana Grande, 7 rings
7. Lil Dicky, Earth
8. Daddy Yankee & Snow, Con Calma
9. J-Hope, Chicken Noodle Soup (feat. Becky G)
10. T-Series, Vaaste
I wonder what this list would have looked like if YouTube were around back in 1979? Would The Buggles have won the day then, too?