YouTube Music Key Beta released: here's how to get it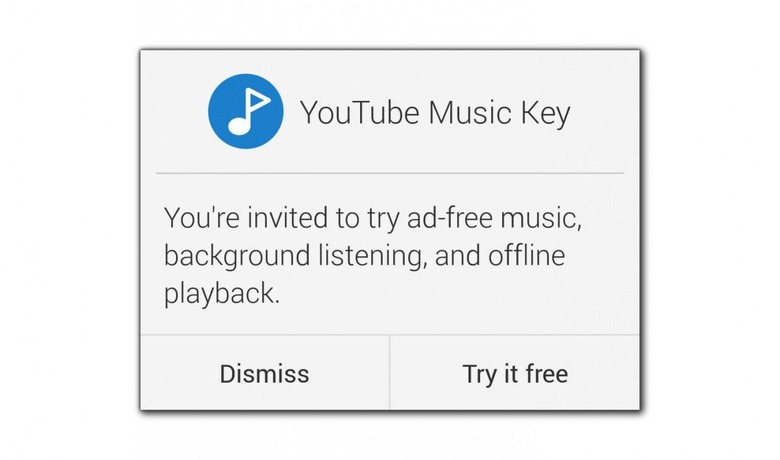 This week Google released YouTube Music Key Beta, and this afternoon, Beta invites are being sent to users in the United States and in several European countries. Though it was originally assumed that only Google Music Subscribers would receive invitations to join the party at first, we've seen invites sent to several non-Google Music Subscribers as well. If you're invited, you'll know it – what you might not know is what the difference is between standard YouTube Music and the subscriber model. It's not exactly obvious right off the bat.
The first thing you're going to want to do today is update YouTube. This update is only on Android devices right this minute, and it does not require that you have Android 5.0 Lollipop. We've seen this update arrive on devices running Android 4.2 Jelly Bean, Android 4.4 KitKat, and Android 5.0 Lollipop.
UPDATE: The YouTube Music Key Beta update is also included in the newest version of YouTube for iOS. Download for iPhone, iPod touch, or iPad now.
Invite or Join
Once you download the newest version of YouTube – or update, rather – you may find the following screen staring back at you. If you do, tap it immediately. You'll want to get in on this YouTube Music Key Beta as quick as possible – it wont be free forever.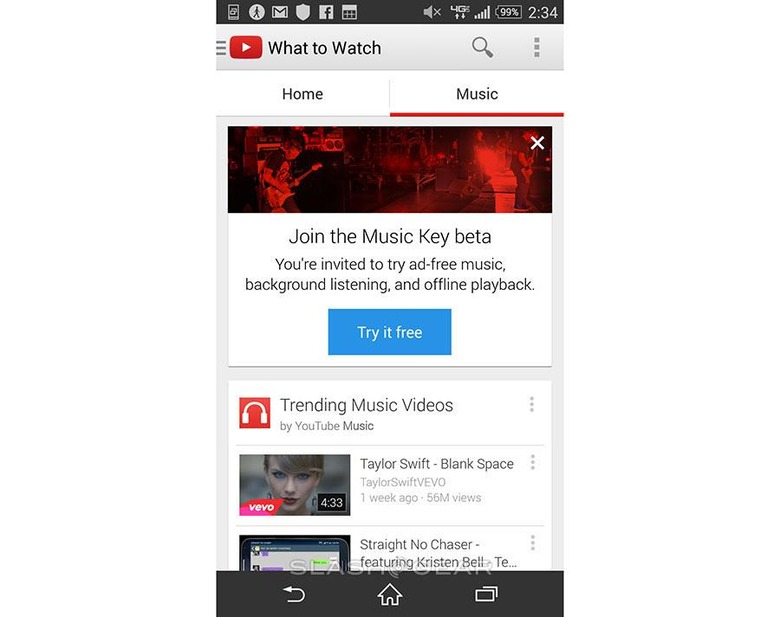 The first few weeks (originally thought to be months) of YouTube Music Key will be free for those chosen to be part of the Beta release. After that, YouTube Music Key will be released to the public and will have a monthly subscription fee.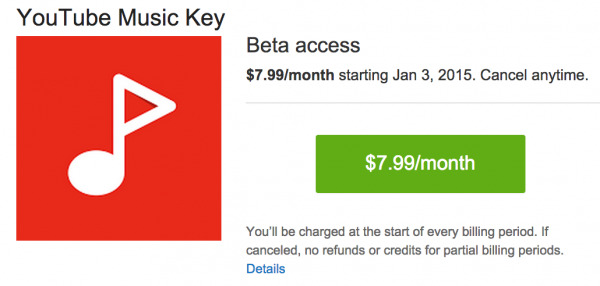 UPDATE: This article originally suggested that users would be able to gain access to the YouTube Music Beta through this portal: https://www.youtube.com/musickey. As it turns out, that's not entirely true.

You won't be billed until January 3rd, 2015 because that's when your access will begin – IF you subscribe through this portal.
There are currently two ways in which you might gain access to YouTube Music Key in this Beta release.
1. You play a lot of music on YouTube regularly. Google has seen your frequent use of YouTube to play Music, and they're interested in gauging your opinion on their new YouTube Music Key program. If you're lucky enough to be one of these people, you'll see an invite in your YouTube app and/or in an email sent to your Gmail.
If you're one of these frequent listeners to music on YouTube and you've been given an invite to the program, you'll also have access to a special community – message boards, that is – where you'll be able to lend suggestions and give feedback to those creating this YouTube Music Key system.
2. You subscribe to Google Music. If you're so severely interested in YouTube Music Key right this minute that you MUST get an invite, you can get one by subscribing to Google Music. In the future AND in the present, if you subscribe to Google Music, you're also getting YouTube Music Key in the same package.
Google Music's subscription page already includes the following: "$9.99/month for unlimited music, completely ad-free on any device, anywhere you go." Not much else will need to be added once it's made entirely clear that YouTube Music Key comes with this deal.
You'll also find the following line in the YouTube Music Key FAQ: "a new or existing Google Play Music subscription includes access to YouTube Music Key."
And what do you get with a subscription to YouTube Music Key?
1. Ad-Free Music Videos
The first and most apparent place you might realize you're either IN or OUT of the Music Key Beta is right below the video itself – there's a little icon. If you're not in the Beta, you'll see the Music Key red note logo. If you're in, you'll see a symbol that says "Ad-Free".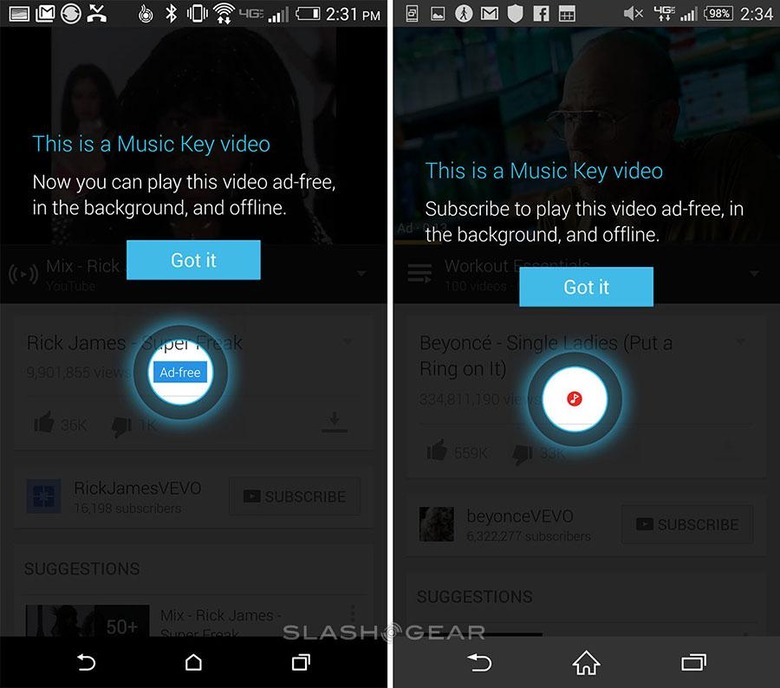 This symbol doesn't appear everywhere, but it WILL appear in most music videos. You might also see some major crack-downs on the posting of unlicensed music videos on YouTube in the near future as well, mind you.
2. Music Video Downloads (Save for Offline)
Subscribers to YouTube Music Key will be able to download videos for offline viewing. If you see this download symbol, you're already in. You can also tap the menu icon on a Music Video in a playlist and locate this same option.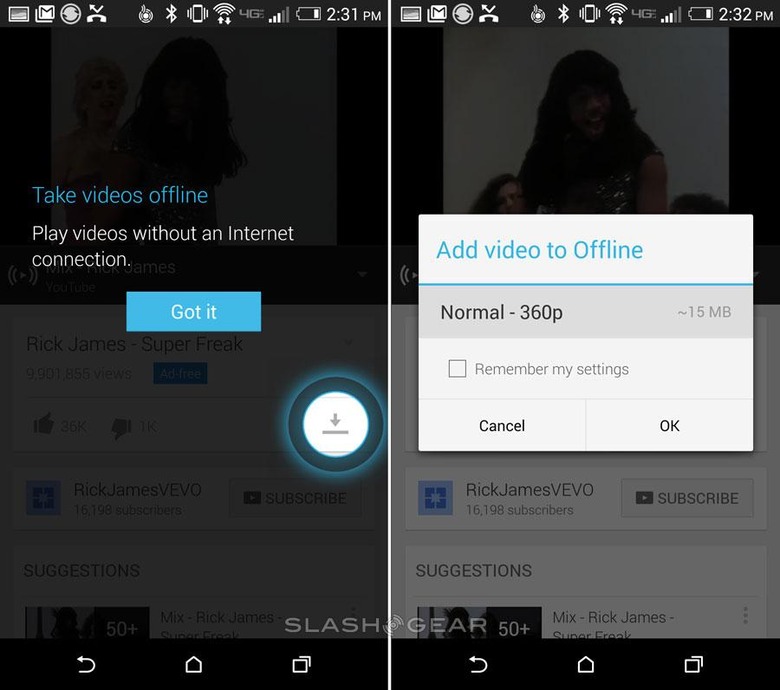 Saving for offline allows you to choose between several resolutions. If you're all about the music and not the video itself, it's probably best you choose the lowest resolution as it'll be the smallest file.
3. Background Listening
Unlike in the past, where mobile devices needed to keep their displays on to listen to the audio from a YouTube video, "Background Listening" has been activated for YouTube Music Key. This system can be activated or de-activated in YouTube Settings.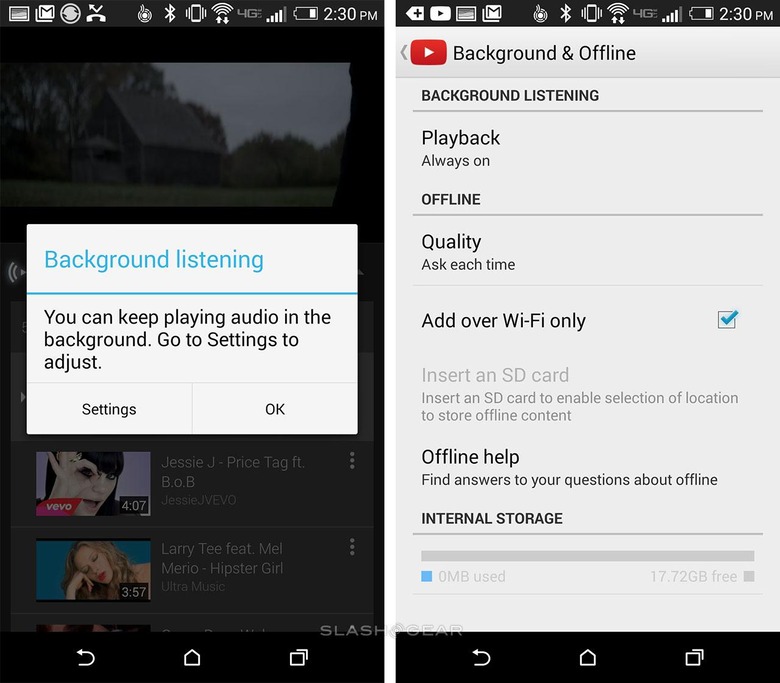 It's in Settings that you'll also notice an Internal Storage setting – here we've got 17.72GB left in this HTC One M8. That storage size is based on the device you've got, not on YouTube's download limits.
Stay tuned as we find out more – and stick around for our full review, coming soon!