Your Tesla can swim, but Elon Musk is making something even better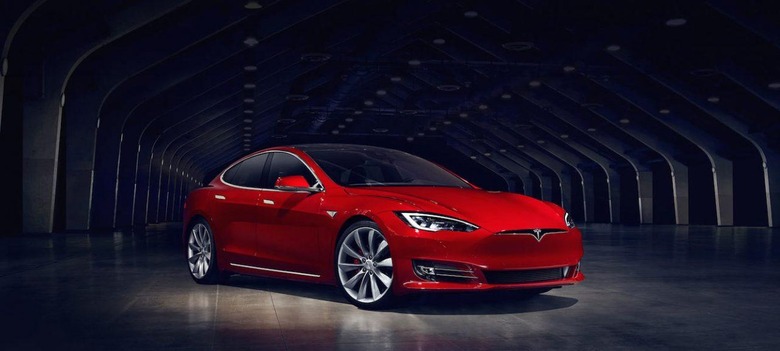 Your Tesla Model S can double as a boat for short swimming distances, Elon Musk has confirmed, but he's also working on something for those with more serious aquatic ambitions. Though Tesla doesn't recommend it, Musk took pains to point out, the Model S "floats well enough to turn it into a boat for short periods of time" if needs demand it.
You won't need to open the sunroof and paddle, either, since the electrically-driven wheels are capable of providing limited thrust when they turn.
The confirmation of that unexpected feature came as a Model S owner in Kazakhstan shared a video of his car swimming its way through a flooded tunnel.
Tesla uses sealed batteries and the drive units are also sealed, so though it's not really intended to be driven to the nearest lake and then straight across the water – and we're not sure what that would do to your Tesla warranty, even if it's technically possible – it's good to know that, in a pinch, you won't be trapped by flash-flooding (or, indeed, cornered by pirates).
Still, Musk does have a more suitable project in the works, he confirmed on Twitter.
Back in 2013, he bought the Lotus Elan used in the James Bond movie The Spy Who Loved Me, famous for its ability – albeit fictional – to convert from a road car to a submarine. The particular prop Musk purchased is the submarine version of the Elan, which he said at the time he intended to outfit with a Tesla electric powertrain, as well as upgrade so that it can truly operate on land and water.
We've not heard much on the project since then – after all, Tesla has been busy releasing the Model X and, most recently, unveiling the Model 3, its most affordable electric car – but a tweet this weekend suggests Musk's goal could be more than just a one-off upgrade for the Elan.
If curious abt TSWLM car, am still planning to do a sports sub car that can drive on roads. Just a side project. Limited market potential

— Elon Musk (@elonmusk) June 19, 2016
Describing it as a "side project" with "limited market potential", Musk says the "TSWLM" upgrade is still underway. That may end up being just the one car, though presumably if the demand (and the cash) was sufficiently great, it could spawn a limited-production series.
VIA Elektrek
MORE Elon Musk