Your next Lyft could now be a Waymo autonomous car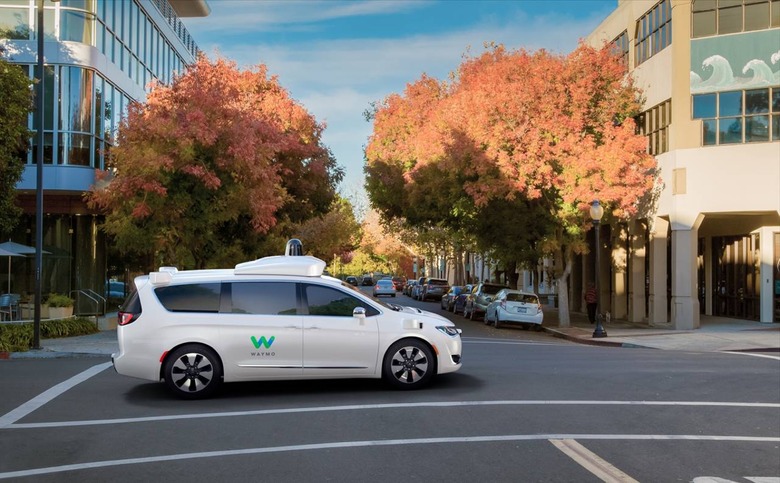 Waymo is starting its slow autonomous drive into existing ride-hailing services, with a partnership with Lyft seeing some users of the service offered self-driving minivans for their journey. The collaboration builds on Waymo's existing pilot scheme for Waymo One, the autonomous ride-hailing service it has been offering since late last year.
Waymo One is the first commercial push for the Alphabet-owned company's driverless vehicles. Available in certain parts of Phoenix, TX, it allows users to summon a customized Chrysler Pacifica Hybrid minivan which can drive autonomously within a certain mapped and geofenced area.
Membership in Waymo One, however, has been limited to pre-screened riders who apply to join the service. Now, some of Waymo's cars are branching out and joining the Lyft fleet. The deal was announced back in May, and Waymo confirmed to CNBC that the first of what's expected to be ten cars are now available to book through the Lyft app.
"Once Waymo vehicles are on the platform, Lyft users in the area will have the option to select a Waymo directly from the Lyft app for eligible rides," John Krafcik, CEO of Waymo, said at the time. "This first step in our partnership will allow us to introduce the Waymo Driver to Lyft users, enabling them to take what for many will be their first ride in a self-driving vehicle."
Eligibility to use an autonomous Waymo car through Lyft will be decided via the journey input in the company's app. If it can be completed within the geofenced operational area that Waymo's vehicles are allowed to use, the option to book an autonomous car rather than a regular Lyft will be presented. Users will always be able to get a traditional, human-driven Lyft instead, if they so prefer.
The Waymo cars will also have a safety driver behind the wheel, there to step in should something go wrong with the ride. The prospect of that human failsafe being removed will be one of the areas of feedback that Waymo is looking to focus on.
For Waymo, the partnership with Lyft is an opportunity to assess reactions of everyday riders to self-driving technology. Currently, more than 1,000 riders use Waymo One, but opening things up to Lyft customers could dramatically extend that, even with only ten cars in the shared fleet. "We're committed to continuously improving our customer experience," Krafcik said in May, "and our partnership with Lyft will also give our teams the opportunity to collect valuable feedback."
It's not Waymo's only expansion in recent weeks, mind. The company announced a deal with Renault and Nissan that will set up new autonomous car projects in Europe and Japan, as the automakers weigh how they could implement driverless technology in future production vehicles.