Your iPhone's new update is iOS 13 Beta, with FaceTime 'attention correction'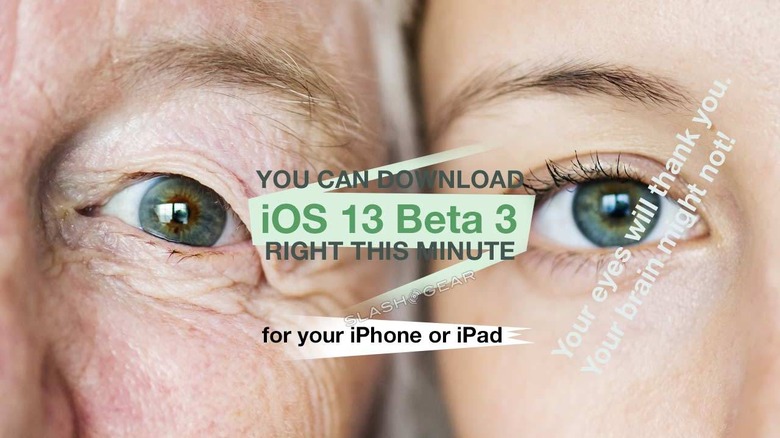 Today the folks at Apple made final the iOS 13 BETA release for the public, allowing pretty much anyone to take a peek on their own iPhone. This means users of the iPhone XS, iPhone XS Max, XR, 8, 8 Plus, 7, 7 Plus, 6s, and 6s Plus will be able to download the software immediately, if they do so dare. There's also a new iPadOS 13 (iOS 13 for the iPad, that is to say) out and available right now, too – in Beta form.
This update will come with a new icon for voice messages in the Messages app. So make sure when you download and load the software, you head into Messages to make certain you're recognizing the new icon – and not just assuming that Voice Messages are gone completely. This update will bring a few more updates in the visual space just like that – so keep your wits about you!
There's a new Rearrange Apps button that'll appear when you activate the function. The way you'll do this is the same as it ever was: Rearrange Apps by long-pressing any one app on your home screen. You'll find a new button that'll ask if you wish to actually rearrange apps or not.
If you're using the iPad version of this software, you'll find a blinking line showing which side of your split-screen is receiving attention – specifically with text. You'll also find a new pill-shaped indicator of which side of the split-screen you're inputting on currently.
If you're in the beta and head into Settings, Health, Headphone Audio Levels, you'll see a new set of explanations for what's going on in the latest Beta in this specific area.
Perhaps strangest of all, you'll find the FaceTime Attention Correction feature in play. This is the not-at-all-creepy feature that'll change the direction of your eyes when you're speaking in FaceTime, so it looks like you're looking right at the person to whom you are speaking. When's the last time you had your eyes redirected automatically?
To attain this update, you'll need to head into the iOS Public Beta page at Apple and tap forth! If you've already done this, simply head into your Settings and get yourself the latest Software Update. It SHOULD be the iOS 13 Beta 3 to which we've been referring – if not, just wait a bit longer!