You can now buy the Gear VR from Best Buy, online only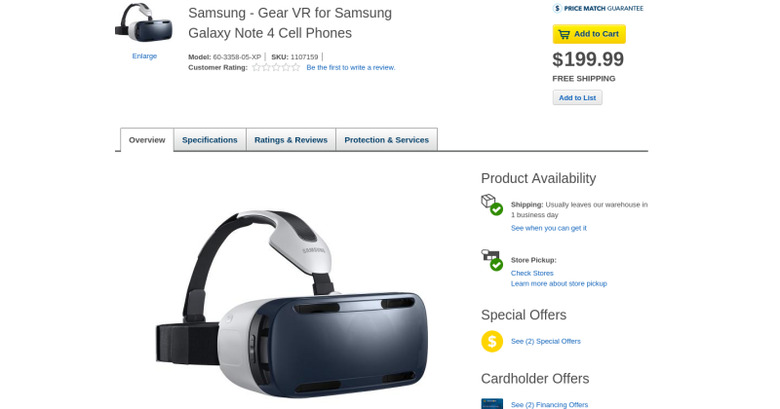 If you've been waiting to get your hands on Samsung's fancy VR headset accessory but aren't a fan of having to buy it through Samsung itself or aren't eligible for AT&T's offer, then your prayers might have just been answered. Somewhat. Now you can try your luck at getting the Gear VR from Best Buy as your last resort. But there's a catch. Don't expect to be able to walk into a Best Buy outlet to grab one, as the headset is still only available online.
Last month, Samsung opened wide the doors to the Gear VR and, although it was still pretty much the Innovator Edition, it quickly sold out from Samsung's online store. This was followed quickly by the same situation with AT&T. One would think that the rather affordable VR headset is a hot item. Either that or Samsung had very little inventory in the first place.
Despite things having seemingly mellowed down, availability of the headset is still limited to a few locations. Now those locations have grown by one, with Best Buy now offering it on its online catalog. But do note that only on its online catalog. You still won't be able to find one sitting on its retail shelves. At least not yet. When that will change will depend on when Samsung decides to market the Gear VR as a final consumer version.
If those requirements sound palatable, then be prepared to fork over $200 for the headset. Presuming, of course, you are aware of the Gear VR's "hidden purchase". You will need to own a Samsung Galaxy Note 4 already, as this won't work on any other smartphone, even those from Samsung.
SOURCE: Best Buy
VIA: Engadget