Yale's new Bluetooth door lock uses digital smartphone keys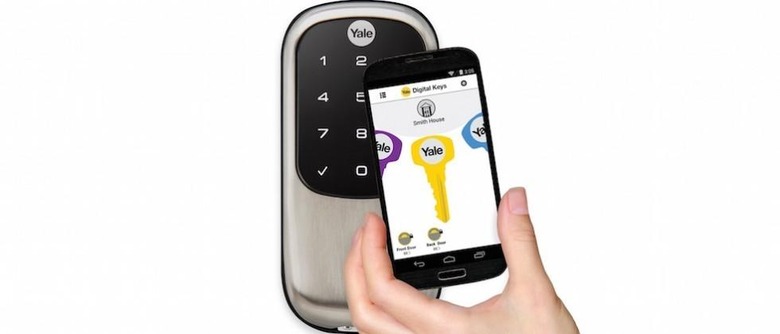 Lock & hardware maker Yale has just announced its latest residential door lock that works wirelessly with digital keys on a smartphone via Bluetooth. Dubbed the Yale Real Living Assure Lock, the hardware works with the Yale Digital Keys app for both iOS and Android, in addition to the new Samsung Gear S2 smartwatch. With the app, users can simply select the key they need to open the door, and hold their device up to the lock.
Like many other "smart locks" that have been introduced, Yale's digital keys are able to be shared with others, and in turn revoked, and the app can notify users when someone uses their key enter, and manage specific times that shared keys can be used. Of course, in the event a user's phone dies or isn't available, the deadbolt lock features a touchscreen that can be used to enter a 4 to 8 digit code for unlocking.
Yale's lock also introduces a novel way using a smartphone in place of a traditional, physical key. Dubbed "Twist and Go," after selecting the key in the app, users simply hold their phone vertically near the lock, and then turn it 90 degrees to unlock. The app display keys on a digital key ring, which can easily be swiped through, with both colors and attached photos used to match them to locations or people.
Additional features include a single key being able to be paired with multiple locks, no limit to the number of users with digital keys, and the lock itself can store up to 12 different entry codes. Yale says the lock is weather-tight and virtually indestructible, and features no cylinder for picking or bumping. In the event the lock's batteries do go empty, a 9-volt battery can just be touched to contacts at the bottom of the lock.
The Yale Real Living Assure Lock with Bluetooth is scheduled to be available in the first quarter of 2016. Priced at $225, the lock comes in three finishes, polished brass, satin nickel, and oil rubbed bronze. The Yale Digital Keys only included 5 digital keys, but more can be added via in-app purchases for $2 each.