Yahoo! Music closing shop, suggests bypassing DRM to users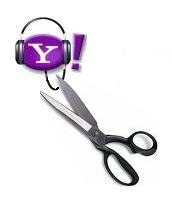 Yahoo! Music have announced that their online store will close as of September 30th 2008.  In an email to subscribers, the company also confirmed that on that date their DRM-authentication server would go offline, meaning that anybody who had bought tracks from the store would be unable to transfer them to another computer:
"After the Store closes, Yahoo! will no longer be able to support the retrieval of license keys for music purchased from Yahoo! Music Unlimited, and Yahoo! will no longer be able to authorize song playback on additional computers.

After September 30, 2008, you will not be able to transfer songs to unauthorized computers or re-license these songs after changing operating systems. Please note that your purchased tracks will generally continue to play on your existing authorized computers unless there is a change to the computer's operating system" Yahoo! Music email
In the biggest slap of irony of all, Yahoo! Music then suggests that anybody concerned about losing access to the tracks they downloaded should burn them to a CD and then rip them back onto the computer:
"For any user who purchased tracks through Yahoo! Music Unlimited, we highly recommend that you back up the purchased tracks to an audio CD before the closing of the Store on September 30, 2008. Backing up your music to an audio CD will allow you to copy the music back to your computer again if the license keys for your original music files cannot be retrieved." Yahoo! Music email
It's looking increasingly tough for companies to justify their DRM systems, as industry heavyweights (including not just Yahoo! but Microsoft – in the shape of the MSN Store – and Google) tried and failed what only Apple have really succeeded with. 
[via Guardian]