Yahoo iOS app adds Summly content curation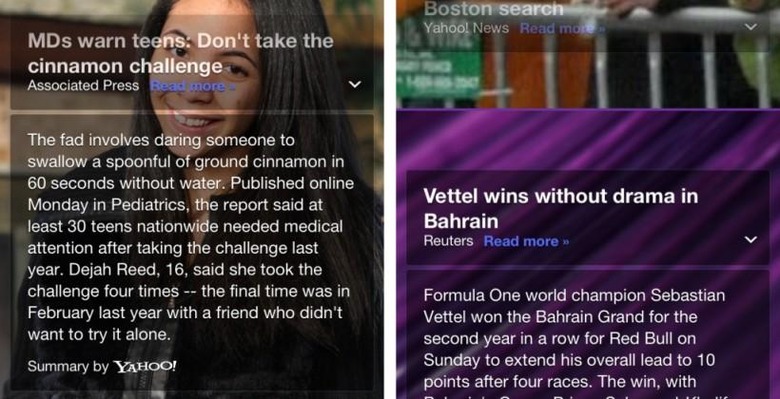 Yahoo has updated its iPhone app today, which most notably integrates a new Yahoo feature known as Summaries, which comes from the fruits of the labor of a 17-year-old app developer who released news summary app called Summly back in November last year. Yahoo bought the app for $30 million, and have integrated the app's features in their updated app.
The new app takes after Yahoo's recently-launched Weather app for the iPhone, which features a beautiful, modern-looking user interface. The Yahoo app allows you to scroll through news items, with the article's image appearing as the background, and a short summary to give you the gist of a long-form news article.
If you log in with your Yahoo ID, you'll get more personalized results, allowing you to read only the things that you're interested in. The app also comes with an improved search engine that provides better video and image search results. Overall, the app has received a major overhaul over what it used to be, and it looks great.
The app is only available for iPhone, however — just like their Weather app, but it's possible we may updated Yahoo apps make their way to iPad eventually. The app is also only available in the US, so international users are out of luck for now. However, the company said it's looking to expand its Summly technology further, so we could see the app expand to other platforms and regions soon.