Xperia XZ first impressions with Xperia X Compact details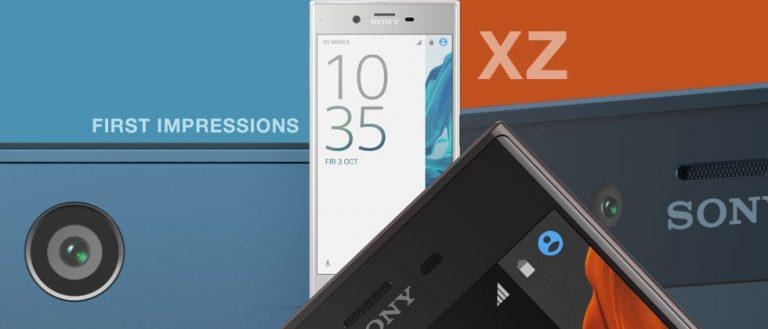 This week Sony has revealed both the Xperia XZ and the Xperia X Compact, two peas in a next-level-photography pod. These devices look very similar to one another – and to previous Xperia smartphones – but they're cut from a slightly different cloth. We've been given the opportunity to get our hands on an early prototype of the Xperia XZ, and as such, we can bring you a decent idea of what's to come in the very near future.
The reason you're not seeing photographs or video here from SlashGear – and instead seeing Sony-shot photos of both XZ devices – is that we're getting our first experience with this line with a prototype of the XZ. This prototype is one whose performance may not end up representing the final product.
The look of the device is lovely. The feel of the design reminds me of the end-days of Nokia's Lumia series, creating a device in which a display seems to rest in curves like a pillow on another pillow.
Sony's design language here isn't quite so puffed up – they've gone a bit more reserved.

It's as if a Sony Xperia X has taken a Lumia transformation pill and has just begun to transform.
Gone is the "oh my god I am definitely going to break this soon" feeling of the past several generations of Sony smartphone – here with what the company calls an "ALKALEIDO" back panel, I feel as though the high-end nature of the phone remains while its fragility is no longer nearly as much of a concern.
Some of the most impressive action is going to come from the camera on this larger of two devices. With a 13MP 1/3.06" "Exmore RS for mobile" image sensor, 22mm wide angle lens, the ability to roll with F2.0 and ISO6400, this camera would be amazing on the back of this phone – but it's not the back-facing camera, it's the front.
On the back is an even more impressive camera, rolling with 23MP, "triple image sensing" technology, predictive hybrid autofocus, fast capture, 4K video recording, low-light photo capabilities with ISO 12800, 1/2.3" Exmore RS for mobile image sensor, 24mm wide Sony G Lens, 5x Clear Image Zoom, and HDR Photo. This back-facing camera also has BIONZ for mobile image processing and SteadyShot with intelligent active mode (running 5-axis stabilization).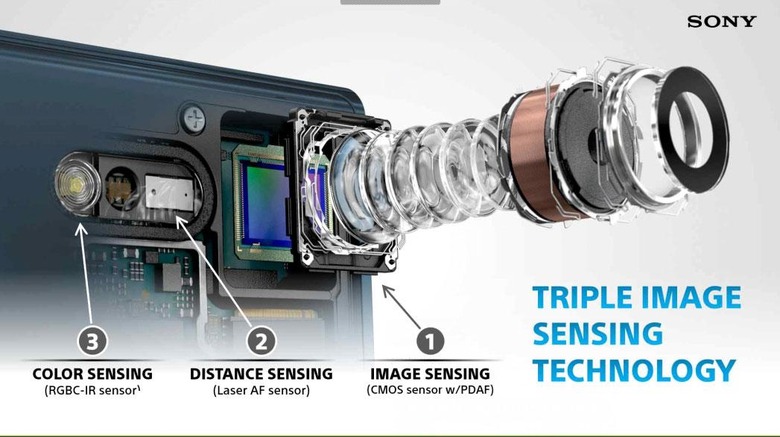 It seems to be a dream camera, really.
We'll have to wait until we get a final release-level device to see what it's really capable of, but for now – it's already mightily impressive.
Above you'll see the full specifications for the Sony Xperia XZ.

Below you'll see the full specifications for the Sony Xperia X Compact.
Next you'll see the three different colors in which the Xperia X Compact will come. Mist Blue, Universe Black, and White.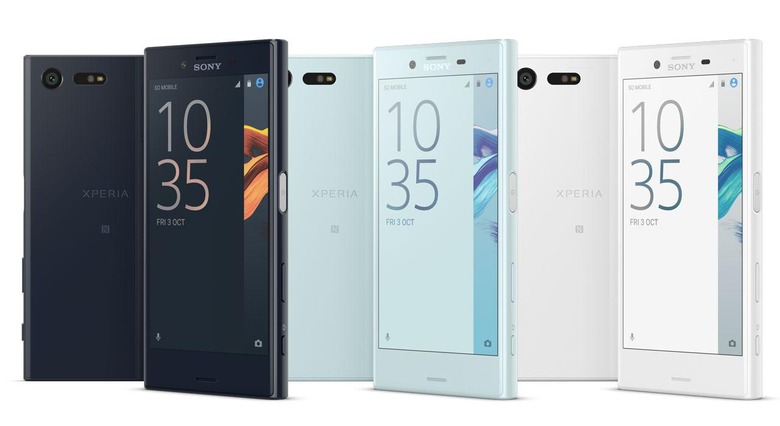 Sony is placing these two devices in their collection as follows – headliner time: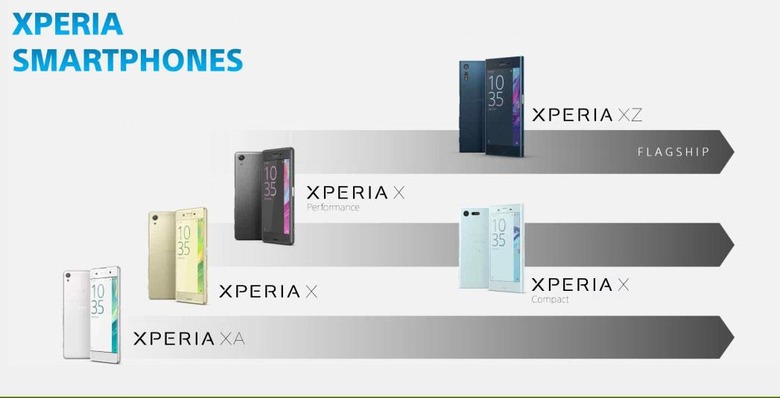 We'll have release and pricing information soon. Stay tuned for more through our Android hub.