These are Redmi's first phones after Xiaomi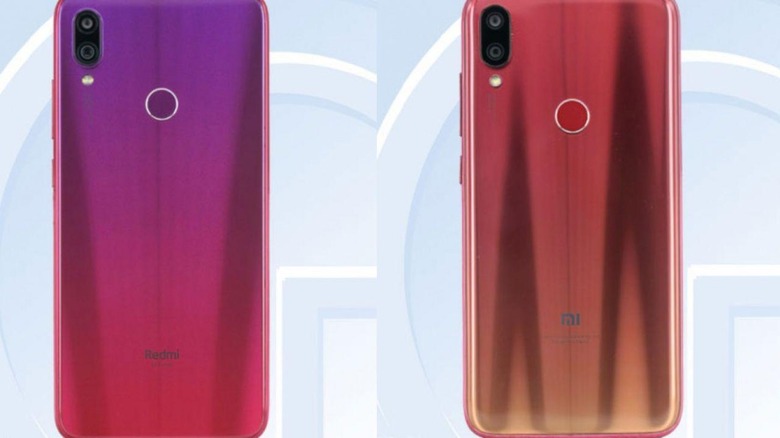 Xiaomi this week announced they'd be spinning off their phone line Redmi into a new sub-brand. Much like their brand Pocophone, this brand will house a collection of phones that are aimed at a specific audience. The first device in this collection was leaked today by TENAA, the certification center in China – and there's gradient aplenty!
UPDATE: TWO devices were leaked now, from the same source, both with Redmi in the mix. Both the Redmi Note 7 and the Redmi 7 were leaked – and they're looking very, very similar. The Note 7 is coded M1901F7, while the Redmi 7 is coded M1901F9. Both devices have some lovely gradients going on – and some teardrop or thereabouts notches up front.
Redmi Note 7
• Display: 6.3-inch
• Processor: n/a
• Battery: 3900mAh
• Size: 159.2 x 75.2 x 8.1mm
• Camera: 48MP (plus another lens)
Xiaomi Redmi 7
• Display: 5.8-inch
• Processor: Qualcomm SDM710 Snapdragon 710 (10 nm)
• Battery: 4000mAh
• Size: n/a
• Camera: 12MP
The reveal date for a Redmi phone with a 48MP sensor was revealed, officially, by Xiaomi this week. That's likely the Redmi Note 7. What's confusing here is the fact that there's also a Redmi 7 but WITH the Mi branding on the back... when the Redmi Note 7 just has the Redmi branding... and there's now a separate brand. It's all very strange. In the end it all boils down to availability – of which there won't likely be much inside the USA.
What I'm most interested in is the treatment of the backsides of these phones. We'll see the 48MP sensor coming to some phones inside the United States by the end of 2019. The colorful backsides here – that too, will come to some phones in the USA. Whether they'll dare to bring on such vibrant purples and oranges and such, we can't yet be sure. But China's all about it! And dear China, we'd love to see such colors here as well!