Xiaomi Redmi 5 Plus has 6-inch FHD+ display for $150
The Redmi 5 Plus suggests that Xiaomi continue to lead the pack when it comes to high-value, low-cost smartphones. Both the Xiaomi Redmi 5 and 5 Plus, actually, roll with surprisingly high-end specs – not the best in the market, but certainly good for the cash. Both devices will be released at the same time and will quite easily be amongst the most sought-after devices in the low-cost market right out the gate.
Xiaomi Redmi 5
The Xiaomi Redmi 5 comes with a 151.8 x 72.8 x 7.7 mm (5.98 x 2.87 x 0.30 in) body made with glass up front and aluminum around the edges and back. This device has a 5.7-inch IPS LCD that takes up 75.9-percent of its face, and with 720 x 1440 pixels it's got 282 Pixels Per Inch to its name. The front reinforced glass panel is Gorilla Glass of some sort or another – a gen from the last few years, we must assume.
This device has a Qualcomm Snapdragon 450 inside with Octa-core 1.8 GHz Cortex-A53 CPU and Adreno 506 GPU. That comes with either 3GB or 2GB of RAM and either 32GB or 16GB internal storage size, respectively. Both versions have a 12-megapixel camera at their back with f/2.2, 1.25 μm pixel size, phase detection autofocus, and a single LED flash.
These devices have fingerprint readers on their backs, Fast battery charging (5V/2A), and a non-removable Li-Po 3300 mAh battery. The Xiaomi Redmi 5 will cost around CNY799 or CNY899 ($120/$135 USD.) This device won't likely come to the USA any time soon – but you never know!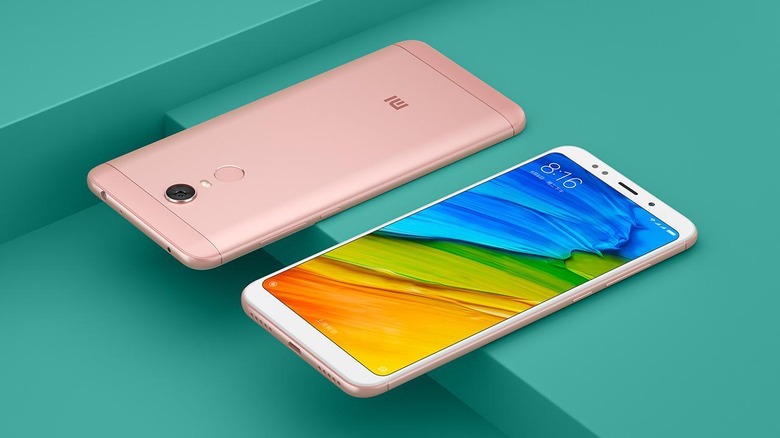 Xiaomi Redmi 5 Plus
The larger device will cost CNY999 or CNY1,299 ($150/$195) and will also be relegated to China, for the most part. It's a shame, because with a look like this and a panel like this, it'd go like hotcakes here in the USA on a carrier like T-Mobile USA.
This Redmi 5 Plus has a 5.99-inch IPS LCD panel that has 1080 x 2160 pixels across its face. It has a 77.4% screen-to-body ratio and a screen size ratio of 18:9, just like the 5. This device also has Gorilla Glass and comes in a variety of colors like Black, Gold, Light Blue, and Rose Gold.
Inside this machine is a Qualcomm MSM8953 Snapdragon 625 processor with internal storage of 64GB with 4GB RAM or 32GB with 3GB RAM. The same set of cameras are here that are with the standard Redmi 5, and there's a slightly different battery inside. That is a non-removable Li-Po 4000 mAh battery for all the battery life you could ever need.