Xiaomi Mi Notebook Air wants to compete with Apple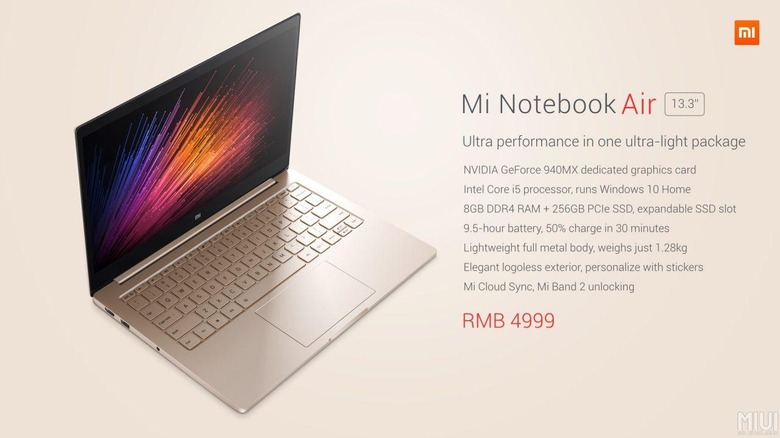 Xiaomi is a Chinese maker of smartphones that we talk about often enough and the last time we talked about the company there were some rumors floating around about a notebook. That rumor has turned out to be true with Xiaomi officially unveiled a pair of notebook models with a Mi Notebook Air 13.3" and a Mi Notebook Air 12.5" notebook. Both of the machines are impressively thin and have nice hardware inside.
The Mi Notebook Air 13.3" machine has an Intel Core i5 processor and runs Windows 10 Home for the OS. That processor is paired with 8GB of DDR4 RAM and a 256GB PCIe SSD. Xiaomi fits the notebook with an extra SSD expansion slot so if you run out of storage all you need to do is cram another SSD inside.
The larger 13.3" notebook claims a battery life of 9.5 hours and fast charging to get the machine back to 50% charge in only 30 minutes. The machine has a very thin body, weighs 1.28kg, and has an NVIDIA GeForce 940MX dedicated graphics card. Pricing starts at RMB 4999 (750 USD) for the 13.3" model.
The Mi notebook Air 12.5" machine is sized just like a magazine and is 12.9mm thick. It has a metal body and tips the scales at 1.07kg. Power comes from an Intel Core M3 processor and the machine promises 11.5 hours of battery life per charge. That Intel M3 processor is paired with 4GB of RAM and a 128GB HDD. This machine also has an expandable SSD slot to allow you to add storage as needed. The screen is a 1080p full HD unit with edge-to-edge protective glass. Xiaomi also fits the notebook with AKG custom dual speakers and Dolby digital surround. Pricing for the Mi Notebook Air 12.5" machine starts at RMB 3499 (525 USD).
SOURCE: Miui