Xiaomi Mi Note crams all the buzzwords inside a phablet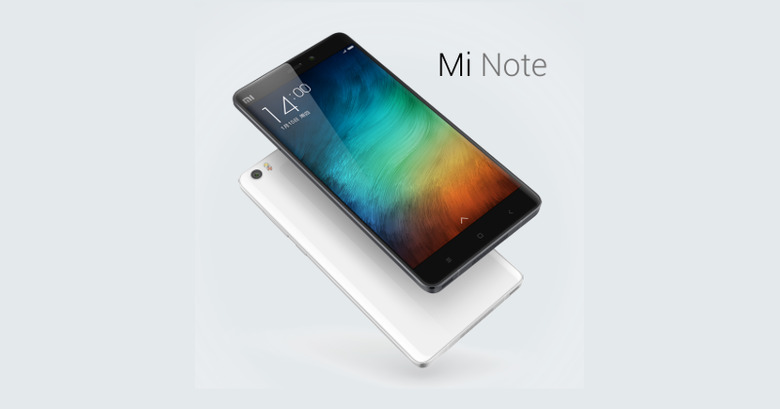 Xiaomi has indeed come out today with its Redmi Note successor and, quite surprisingly, it's not the Redmi Note 2. Going with a different naming scheme this time around, the Mi Note has the same message as the Redmi Note and Xiaomi's other flagships: you don't have to sell an arm or a leg or both just to get a high-quality smartphone. And with all the high-end features and details that Xiaomi is revealing about the Mi Note, that is very well a proposal that many will be willing to swallow.
Unlike the stylus-bearing Galaxy Note, Xiaomi's "Note" has become synonymous with its phablet line. This Mi Note is no different, sporting a 5.7-inch screen made by Sharp and JDI. Sadly, Xiaomi isn't yet crossing over to the 2K field, so this one comes with 1080p only. At least one of two versions is. That said, Xiaomi wants you know that it hasn't exactly been skimping on the display. Instead, it is flaunting its curves, its glass curves, that is. The front panel is noted to use a "2.5D" curved Gorilla Glass 3 with a very slim 3.0 mm bezel while the back is also coated with glass but with a bigger "3D" curvature. How this translates into practice needs some real-world hands-on testing, but the Mi Note certainly isn't the first or only smartphone with a 2.5D glass display.
If you find the display merely passable, Xiaomi wants you to turn your attention to the cameras instead. They're not going to win any megapixel count contest, but both front and back cameras have a story to tell. The 13-megapixel rear shooter uses Sony's 2nd gen IMX214 CMOS sensor and boasts of that coveted Optical Image Stabilization technology. It is assisted by a dual flash setup from Philips, a 2-tone flash that promises to deliver more natural colors. And while the 4-megapixel front camera isn't exactly the highest selfie-friendly one, Xiaomi boasts that its 2-micron pixels is so much better than those because of the larger pixel sizes. Technically, this is the same "UltraPixel" format that HTC has been singing about in the HTC One (M7).
And if you've gotten bored of displays and cameras, you might believe that audio is the next smartphone frontier and Xiaomi is with you there, too. While displays are getting higher and higher def, audio is now also going hi-def, or hi-fi to be exact. The Mi Note supports playback of hi-fidelity 24-bit/192 kHz lossless audio, like those in FLAC, WAV, or DSD formats. This is thanks to the ESS ES9018 inside, one of the more popular DAC audio decoders around. And to complement that, Xiaomi has also announced the Mi Headphones with large 50 mm berylium diaphragm speakers, super low 32-ohm impedance, and silver-plated straight cable.
In terms of actual smartphone specs, you basically have two choices, depending on how premium you want to get and how much you are willing to pay. The regular Mi Note runs on a 2.5 GHz quad-core Qualcomm Snapdragon 801 with 3 GB of RAM, a 3,000 mAh battery, and options of 16 and 64 GB of storage. But if you really want to go all out, the Mi Note Pro pulls out all the stops. You get the 64-bit octa-core Qualcomm Snapdragon 810 paired with 4 GB of RAM, 64 GB storage and an upgrade to a 2560x1440 2K display.
The regular Mi Note costs 2,299 RMB ($371) for the 16 GB model while the 64 GB version asks for 2,799 RMB ($452). It will be available from Jan-27th in China. The Mi Note Pro will be launched later by end of March. It naturally has a higher price tag of 3,299 RMB ($532), but considering everything that you're getting, that might be a price many will also be willing to pay.