This morning we're taking a peek at two new phones from Xiaomi, the Mi A2 and the Mi A2 Lite. Much like some of the other two-tier smartphone releases of late from other companies, Xiaomi has two distinct phones here with the same name. The larger device has a rectangular display, and the "Lite" version has a notch. How weird!
The Mi A2 is similar to the Mi A1 in name – but that's about it. This device has a larger display, a slightly thinner body, and a different set of priorities in general. The Mi A2 has a 7.3mm body that's all aluminum and glass (aluminum on the back, glass up front) with USB-C at the bottom with dual-speakers (also at the bottom).
The display on the Mi A2 is 5.99-inches large with Gorilla Glass 5 on top. Around the back is a set of cameras, one 12MP, the other 20MP. Inside are a 12MP Sony IMX486 sensor and a 20MP Sony IMX376 sensor – keep that in mind for future phone camera battles.
Both have f/1.75 apertures, and the 20MP camera has "Super Pixel" technology. Xiaomi suggests that this 2um pixel size 4-in-1 Super Pixel technology combines 4 pixels at once to create a larger pixel, making the end product photo better than ever.
There's a 20MP camera up front as well with the same Super Pixel technology. That'll probably be more interesting to behold than the back shooter – SELFIE TIME. The front-facing camera also has AI-powered "beutify" tech and Portrait semantic segmentation as well as soft Selfie-light action.
Unfortunate for those lovers of the headphone jack, this device drops the port. There's nothing like an upgrade that cuts options, right? Below you'll see a comparison between the Mi A1 and A2 – in Spanish, but you get the idea, right?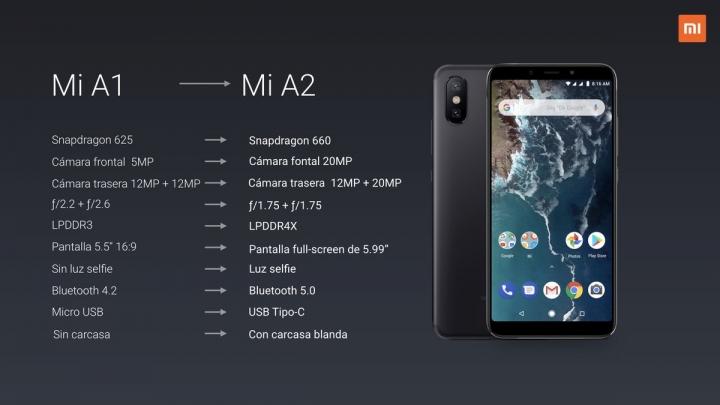 Mi A2 will be available soon in three iterations: 4GB+32GB for €249, 4GB+64GB for €299, and 6GB+128GB for €349. There'll be black, gold, and blue versions.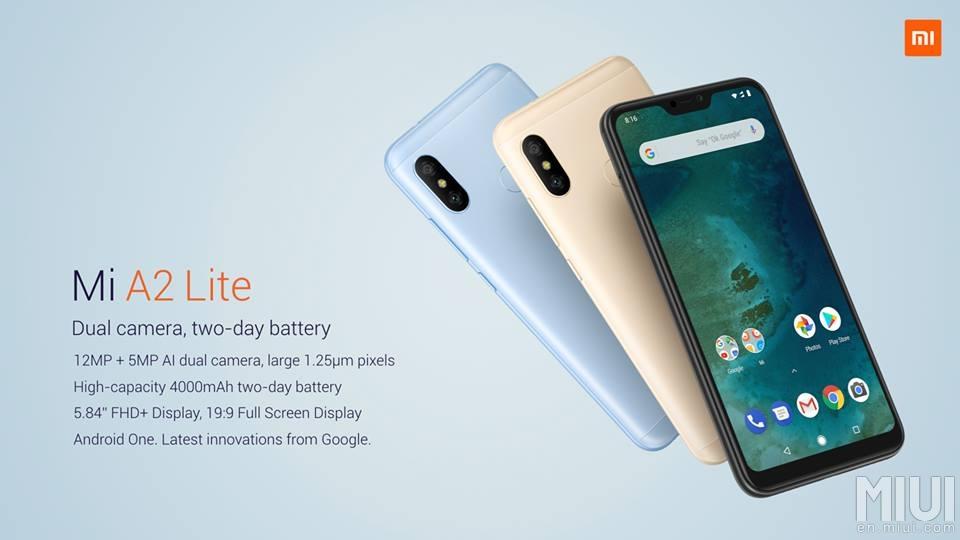 The Mi A2 Lite has a 5.84-inch LCD display with a notch and an aspect ratio of 19:9 – so that's pretty weird! On the back the cameras are 12MP+5MP, and up front is a 5MP camera. This device is pretty comparable to the Mi A1, which was excellent to be sure. This device will come with 4GB RAM and 64GB internal storage and will cot around Euro 229 at launch.