Xbox One X: All of games announced at E3 2017 (with trailers)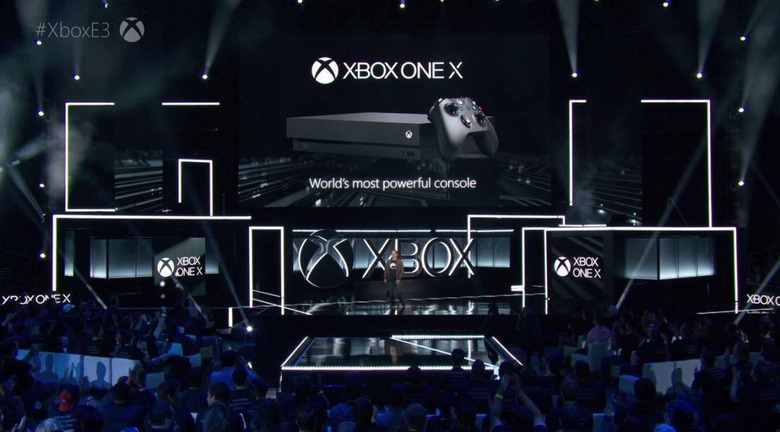 E3 2017 is arguably the biggest expo Microsoft has had in years, thanks to the official reveal of the Xbox One X. Though Microsoft spent a fair amount of time talking about the console itself, it used most of its conference time to show off all of the games that will be getting the 4K treatment on Xbox One X. Xbox chief Phil Spencer said there are 42 confirmed games in all, with 22 of those being exclusive titles of some type. Below you can find a list of all the big games announced during the show, along with trailers for each of them.
Anthem
This was unquestionably the biggest reveal of Microsoft's show. Though Electronic Arts briefly teased Anthem during its own press conference on Satruday, it waited until Microsoft's showcase to provide some actual gameplay footage. Being BioWare's newest IP, Anthem has a lot of people buzzing as we head into E3 2017 proper, so watch the official gameplay reveal below to see what all of the fuss is about.
Forza Motorsport 7
If Anthem was the biggest game overall, Forza Motorsport 7 may just be the biggest first-party game Microsoft focused out. With Halo absent, it was Forza's opportunity to shine, and shine it diud. Microsoft even alloted some time to reveal the new 2018 Porsche 911 GT2 RS. In case you haven't figured it out yet, the Porsche 911 GT2 RS is going to be the star of Forza 7, and the game looks like it'll be a joy to play in 4K.
State of Decay 2
Are you tired of zombies yet? Undead Labs and Microsoft sure hope you aren't, as State of Decay 2 was one of the headliners for the Xbox One X. In fairness, the original State of Decay managed to net itself an impressive following of fans, so hopes are certainly high for this follow-up. We'll see if it can deliver when it arrives in spring 2018.
PlayerUnknown's Battlegrounds
PlayerUnknown's Battlegrounds might just be the biggest PC release of 2017 thus far. Little surprise, then, that Microsoft wooed its developers into a timed exclusivity deal for the game's console launch. Pitting players in a last man standing deathmatch against 99 other people, PlayerUnknown's Battlegrounds is brutal, addicting, and intense. Look for it to launch on Xbox One X later this year.
Black Desert Online
We already knew that Kakao's MMORPG Black Desert Online was in the works for Xbox One, but it looks like it'll support 4K visuals on the Xbox One X as well. We were treated to a rather pretty trailer for the game, and even though there's no word on release yet, this looks like a game to watch if you're starting to grow tired of Elder Scrolls Online and Final Fantasy XIV.
The Artful Escape
The debut game from studio Beethoven & Dinosaur, The Artful Escape centers a young musician named Francis Vendetti, who looks like he could double as Harry Potter if everyone's favorite wizard had exchanged magic for shredding. The trailer really doesn't give too much away, but it does feature a pretty fantastic guitar solo and excellent visuals, so it's hard not to get excited. Coming "when it's damn ready," according to its developers, we may not be able to look forward to this until sometime in 2018.
Tacoma
Admittedly, we don't know a whole lot about Tacoma. We know it's going to be an AR game that appears to take place on a space station, and we also know that it's out soon, arriving on August 2. From the developers of Gone Home, Tacoma was first announced way back in 2014, but even with three years in between then and now, details are still fairly slim. Have a look at the short trailer below to see if you can glean any new details.
Deep Rock Galactic
Ever wanted to play as a dwarven miner? Deep Rock Galactic gives you that opportunity, tasking you and up to three friends with exploring procedurally-generated cave systems in search of loot. It appears that each dwarf on the team will have a different role, which is important because not only will you be digging, but you'll also be fighting. This is one of the games Microsoft announced as a "console launch exclusive," so expect this to hit Xbox One X before PS4.
Middle-Earth: Shadow of War
We were treated to a rather lengthy look at Shadow of War gameplay, and during this preview, we were introduced to one of the stars of E3. Even if you're not a fan of Lord of the Rings, you owe it to yourself to watch the demo below and meet Bruz the Chopper, a sassy Orc who joins forces with Talion and Celebrimbor. If all of the Orcs in this game have a personality as developed as Bruz does, then we are definitely in for a treat.
Crackdown 3
Below is a trailer in which Terry Crews gets you hyped to blow stuff up in Crackdown 3. If you need more than that to click the play button, then Crackdown 3 definitely isn't the game for you.
The Darwin Project
Thanks to the success of games like H1Z1: King of the Kill and PlayerUnknown's Battlegrounds, the popularity of Battle Royale games seems to be on the rise. The Darwin Project takes things one step further by making the environment a threat in addition to other players. If it's as good as it looks, then The Darwin Project should have no problem attracting a large player base.
The Last Night
Not a whole lot is known about The Last Night at this point, but one thing is for sure: this is a good looking game. Playing it at 4K resolution with HDR should make for quite the visual treat. Don't take my word for it, though – have a look at the game's excellent reveal trailer below.
Life is Strange: Before the Storm
Square Enix's first trailer for its Life is Strange follow-up is a little light on plot details, but I'm guessing that won't stop fans from getting excited. The story-focused Life is Strange was very well received, so expect Life is Strange: Before the Storm to be just as popular.
Metro Exodus
Standing in stark contrast to the some of the more colorful game Microsoft revealed, Metro Exodus is decidedly dark. As with the previous Metro games, Exodus takes place in a post-apocalyptic Russia, with plenty of mutated beasts to fight and dark metro tunnels to explore. We won't get this until 2018, but if it's as good as the first two games, it'll be worth the wait.
Assassin's Creed Origins
This was one of the biggest reveals Microsoft had on hand. By the time Assassin's Creed Origins arrives in November, it'll have been two years since the last mainline Assassin's Creed game, and Ubisoft is looking to reinvent the series with this release. Set in Ptolemaic Egypt, we're going further back in time than we ever have before, so expect Ubisoft to pull out all the stops with this game.
Ori and the Will of the Wisps
The long-awaited follow up to indie darling Ori and the Blind Forest, Ori and the Will of the Wisps certainly has a lot of people excited. Few games were as visually stunning as Ori and the Blind Forest, so expectations are certainly high for its sequel. Here's hoping that Ori and the Will of the Wisps is just as good as its predecessor.
Sea of Thieves
The content we were given for Sea of Thieves isn't just a trailer, but rather a full-blown gameplay demo. Fans have been waiting quite some time for this game and it seems to be coming together nicely. Unfortunately, we learned during the show that it has been delayed yet again, now launching in early 2018.
Super Lucky's Tale
In this colorful platformer, you'll play as a fox named Lucky as he helps his sister attempt to recover an item called the Book of Ages from a "scheming and mysterious villain" named Jinx. Super Lucky's Tale seems to take a lot of cues from other 3D platformers, which isn't necessarily a bad thing. We'll see how it stacks up to other games in its genre when it launches on November 7, the same day the Xbox One X is released.
Dragonball FighterZ
If, at first glance, you think that you're watching clips from the actual Dragonball Z anime in this trailer, you definitely aren't alone. All of this seems to be actual gameplay, though, or at least if it's a blend between gameplay and show footage, I'm having a difficult time telling the difference. Have a look for yourself:
Minecraft
Yes, this is just Minecraft, but there's actually some big news to be found in this trailer. Minecraft is getting 4K support on Xbox One X, along with a community marketplace and cross-platform play. When this update lands, you'll be able to play with others on PC, Nintendo Switch, and mobile devices, greatly expanding the Minecraft community for Xbox One X. Not a bad series of announcements for a game that's about to turn six years old.
Ashen
Though it may not look like it from the cinematic trailer below, Ashen is billed as an action RPG, presumably in the vein of Diablo or Dark Souls. Set in a world devoid of natural sunlight, Ashen certainly seems to have some horror elements as well. No release date yet, though considering this game has been in development since at least 2014, we may just hear more about that soon.
Cuphead
Cuphead is unquestionably one of the most interesting games announced during Microsoft's showcase. With an aesthetic reminiscent of 1930s cartoons from Disney and Warner Bros, animation fans might want to give this some special attention. Unfortunately, the trailer is too short to hold any significant details, but we'll find out more when the game is released in September.
ID@Xbox Montage
We've already covered a ridiculous number of trailers, but Microsoft didn't stop there. Some of the games coming to Xbox One X and Xbox One weren't given individual trailers, but were featured in the ID@Xbox montage you see below. The montage hosts footage from a number of incoming indie games, including Conan Exiles, ARK: Survival Evolved, Unruly Heroes, Fortnite, and Surviving Mars.
Xbox One E3 2017 Games Montage
If you don't have time to watch all of these trailers, then this is the montage for you. This montage briefly touches on most of the games Microsoft talked about during the show. It also features some other games that Microsoft didn't talk about specifically, including Elder Scrolls Online, Red Dead Redemption 2, Need for Speed Payback, Gwent, and Tekken 7.
Microsoft's E3 2017 press conference
On the other hand, if you have nothing but time on your hands as we wait for today's press conferences, you can watch Microsoft's E3 2017 press conference in its entirety below. If you've watched all of the trailers featured in this article, then you'll have seen most of this press conference already. However, watching the full thing will also get you important details on Xbox One X, including its specifications, price, and release date.
Wrap-Up
Whew. Microsoft certainly had a lot to show during its E3 2017 press conference, and though many of these games are coming to other platforms as well, we know now that the Xbox One X will have quite a bit of support at launch. What was your favorite game of the showcase? Head down to the comments section to let us know, and be sure to check out our E3 2017 coverage for more from the show!