Xbox One S release date revealed, 2TB console hitting shelves first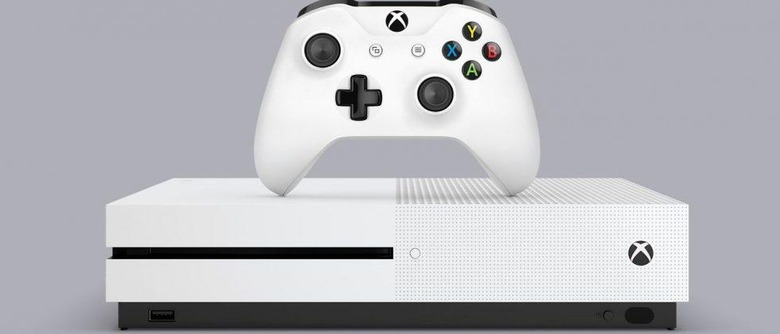 After revealing the Xbox One S at its E3 showcase last month, Microsoft has finally given us a launch date. The company says that the Xbox One S will be releasing in select regions on August 2, along with a standalone wireless controller that comes with a textured grip and Bluetooth connectivity. In order to connect the controller to your computer through Bluetooth, though, you'll apparently need to be running Windows 10 with its Anniversary Update.
At first, it appears that only the 2TB version of the Xbox One S will be available. The 2TB console comes offering the most memory at the highest price, requiring potential buyers to plop down $399.99. Microsoft will also have 1TB and 500GB consoles on offer, which come in at $349.99 and $299.99 respectively, but it doesn't seem like those will be available alongside the 2TB version on August 2. Microsoft didn't say when the other consoles in the Xbox One S lineup would be launching, only that more details on their availablity will be coming soon.
The Xbox One S looks to take the original Xbox One and scale things down a bit, with the One S being 40% smaller than its counterpart. Microsoft has also opted for a built in power supply with this release, along with support for High Dynamic Range. The console will come bundled with one of the aforementioned controllers, though if you want to pick up controller on its own, it'll come with a $59.99 price tag.
As with other hardware refreshes, the Xbox One S will work with all existing Xbox One games and accessories. While we're expecting the Xbox One S to be the go-to choice for people who have yet to jump on the Xbox One train, those who already own Microsoft's current-gen console will probably be content with what they have. We'll keep an ear to the ground for any details on the launch dates of the 1TB and 500GB consoles.