Xbox One S 1TB bundles with Halo Wars 2, Forza Horizon 3 revealed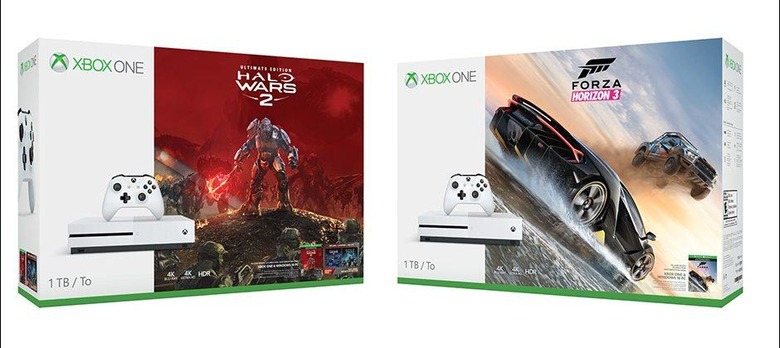 If you're thinking of picking up an Xbox One S but aren't really interested in any of the bundles that are currently available, you may want to hold out a few more weeks. Today Microsoft announced a new pair of bundles that will feature two of the Xbox One's biggest games. Even better is the fact that they'll contain 1TB consoles, which is a big step up from the standard 500GB Xbox One S.
Perhaps the more exciting bundle is the one that comes with a copy of Halo Wars 2 on the side. Halo Wars 2 has been a long-awaited and long-requested game, and we've almost made it to release. You'll be getting the Ultimate Edition of Halo Wars 2 in this bundle, and the whole package will set you back $350.
If real-time strategy isn't your cup of tea, then you might want to have a look at the incoming Forza Horizon 3 bundle. Unlike the Halo Wars 2 bundle, you'll have your choice of a 500GB or 1TB Xbox One S here. The 500GB bundle costs $300, while the 1TB bundle demands $350 of your hard earned cash.
Indeed, real-time strategy seems a little out of place on consoles, but the original Halo Wars was about as good of an implementation as we've ever seen. For those who would rather keep their RTS games to a mouse and keyboard, you can't really go wrong with Forza Horizon 3. I named it one of my best games of 2016 and I'm not even a racing fan – it's hard not to love Forza Horizon 3, and a console bundle putting it front and center is long overdue.
Both bundles will include a 14-day trial for Xbox Live, and each one has a different release date. The 1TB Forza bundle is available now through the Microsoft Store, and it'll land alongside the 500GB package at US retailers on February 7. The wait is a bit longer for the Halo Wars 2 bundle, as that won't be arriving until February 17 – four days before the standard edition of Halo Wars 2 is set to launch.
SOURCE: Xbox Wire