Xbox One November update: wallpapers, trending TV shows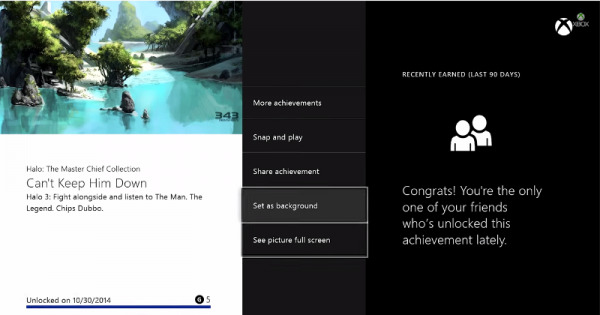 Microsoft has just started rolling out the latest and last system update for the Xbox One this year. Already available as a preview for testers last month, this update brings a ton of new options, in particular regarding customization for both the console itself and gamers' online profiles. It also improves ways to discover new content, whether they be Live TV shows or games from the marketplace. Plus, some smaller touches here and there that gives you even less reasons to stand up from your couch.
The Xbox One follows the trend, probably started by Sony, of letting players customize their current gen console's appearance. Though it doesn't change the overall appearance of the Xbox One's start screen, users will be able to choose a wallpaper, whether it be a color, theme, a photo from an external USB storage, or even one of your Xbox achievements. And in the spirit of choice, gamers can now also add their location and bio to their profile, as well as set what achievements or items other gamers are able to see when they view your profile from their own console.
Microsoft sells the Xbox One as more than just a gaming console but as an entertainment hub, so it is leaning heavily on the TV capabilities of the box. Those in the US, Canada, and the UK, will now be able to see in OneGuide's new Trending tab what's hot and what's not when it comes to Live TV. Those in the US can also the surrounding tweets about the shows as well. Conversely, those users can now also tweet about their favorite Live TV shows, too.
Some bits and pieces of new functionality have also been included in this November update. These include being able to use Internet Explorer in snap mode, for researching that game you're playing or that show you're watching. You can now also restart the console right from where you are, through a new option in the Settings menu. And to be sure you are actually up to date, you can now also check in Settings the details of your last successful update.
Microsoft notes that this is the last system update for this year, barring any emergency fixes they might have to push out immediately. The next you'll hear from them will be early 2015, when they will lay out their vision for next year. Hopefully, that will finally include being able to grab in-game screenshots.
SOURCE: Microsoft