Xbox One live TV arrives with this little stick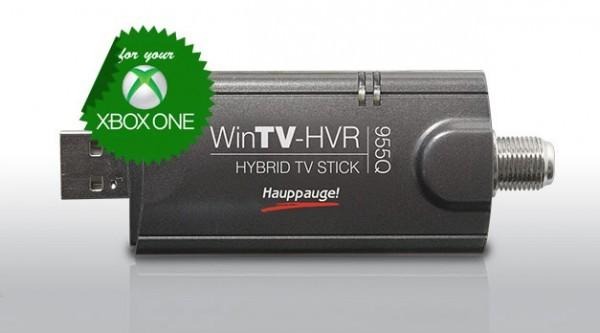 You wouldn't guess it by the looks of the device, but this little piece of equipment is the official go-to device for Xbox One live TV. Microsoft is promoting this device, the Hauppauge WinTV-955Q, paired with an HDTV antenna, to bring "over-the-air TV" – also known as live TV –live, but not cable TV. This is an official partnership between Xbox and Hauppauge, and soon they'll be releasing an edition of the device called the "Hauppauge TV Tuner for Xbox One" for both the United States and Canada.
Members of the Xbox One preview program are able to make use of this stick (again, so long as they have an HDTV antenna) starting this week. Microsoft suggests that "in the next few months", they'll be making the Hauppauge TV Tuner for Xbox One available to the public.
The normal WinTV-955Q will cost you $79.99 USD right this minute from a variety of retailers, while the Hauppauge TV Tuner for Xbox One is suggested by Microsoft to be coming in at MSRP $59.99 – cheaper, that is to say.
According to Microsoft, support for over-the-air TV on Xbox One means "access to broadcast networks available in your area, like CBS, FOX, NBC, and PBS, with no subscription cost."
Of course if you live in the Australia, France, Germany, Italy, Spain, or the United Kingdom, all you need is this device:
This is the Xbox One Digital TV Tuner.
But wait, you might be saying – why can't I just use that thing here in the United States?
Because here in the United States, cable companies and content providers are very, very strict. In those European countries, this digital TV tuner allows use of free-to-air DVB-T, DVB-T2 and DVB-C television standards – that's European.
This device's ability to work with Xbox One is expanding today to Xbox One Preview members in 11 more countries as well. Those countries are Austria, Belgium, Denmark, Finland, Ireland, Netherlands, Norway, Poland, Portugal, Sweden, and Switzerland.