Xbox One Digital TV Tuner brings Europeans free-to-air shows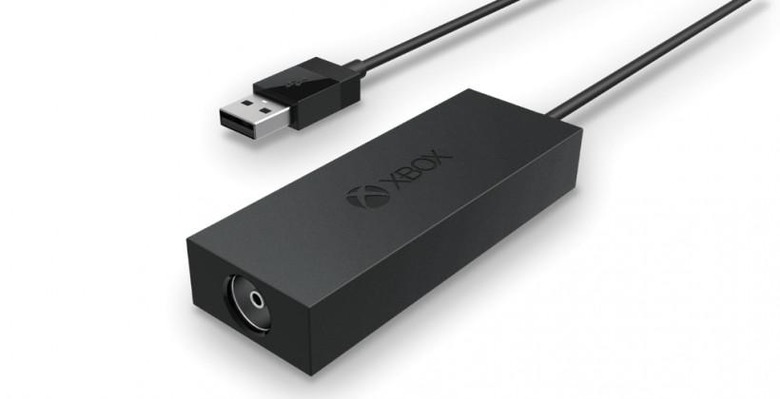 owners in Europe will soon be able to add a digital TV tuner to their console, controlling their viewing by voice and enjoying free-to-air content. The new Xbox One Digital TV Tuner is a compact adapter that plugs into one of the Xbox One's USB ports and then to a regular TV antenna, while a companion update to the OneGuide and the OneGuide on Xbox SmartGlass app brings control to both the TV and to your phone or tablet.
The tuner will support free-to-air DVB-T, DVB-T2, and DVB-C channels in the UK, France, Germany, Italy, and Spain. As with plugging in an external TV source via the HDMI input, there's Snap Mode for watching TV picture-in-picture while games or other apps are also on the screen, and basic timeshifting with the ability to pause what's happening and then resume later.
However, there's no true DVR functionality, at least not year, so you can't turn your Xbox One into a fully-functional recorder.
Voice control – by calling out a channel and then having Kinect automatically switch to it – is supported, and there's the ability to set favorites for easier access as well as see what on-demand content is available in the new OneGuide.
Best of all, Microsoft has resisted the temptation to make the Digital TV Tuner vastly more expensive than it needs to be, at least when it comes to gaming accessories. It'll land in the UK for £24.99 ($42) and in France, Italy, Germany, and Spain for €29.99, in late October.
SOURCE