There's a documentary series approaching the world which will cover a collection of oddities in our modern technological landscape, entirely exclusive to Xbox One and Xbox 360 and beginning with the Atari landfill. These folks begin with another exclusive – rights to the upheaval of a landfill stocked with massive amounts of the video game "ET the Video Game" tossed there after Atari saw "overwhelmingly negative" feedback in 1983. If this all seems interesting to you already, you'll be in for a real treat.
This documentary series will be appearing backed by creators Simon Chinn and Jonathan Chinn and their multi-platform media company Lightbox. Simon Chinn is known for his work with Searching for Sugar Man and Man on Wire while Jonathan Chinn is best known for FX's 30 Days and the PBS program American High. Each entry into this documentary will potentially have a different director, starting with Zak Penn, known for his work on X-Men 2, Avengers, and Incident at Loch Ness.
"When Simon and Jonathan Chinn approached me about this story, I knew it would be something important and fascinating. I wasn't expecting to be handed the opportunity to uncover one of the most controversial mysteries of gaming lore." – Penn
The first documentary in this ongoing series will focus on what's called the Atari Burial. Centered on the town of Alamogordo, New Mexico, this team has been given the right to excavate the location of "millions of unsold game cartridges" that'd been "buried in the middle of the night" back in 1983.
"These stories will expose how the digital revolution created a global democracy of information, entertainment and commerce, and how it impacts our lives every day." – Nancy Tellem, president, Xbox Entertainment Studios
This "great video game burial" will be documented with help from Fuel Entertainment and will be done in early 2014. We'll expect to see the first episode of this yet-unnamed series by the middle of the year.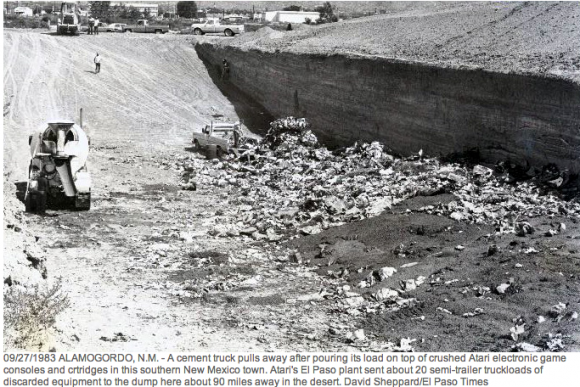 BONUS: The image you see above comes from the El Paso Times and appears to focus on "14 to 18 truckloads of unsold ET and Pac Mac cartridges" being buried in Alamogordo. If this bit is true, this documentary crew had better bring some jackhammers.