Xbox Music OneDrive integration seems ready for launch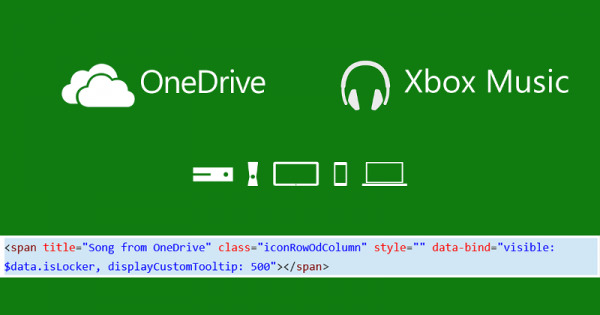 One awaited feature for Xbox Music users might already be ready for prime time. Although it was already hinted a few months ago, the convergence of Microsoft's two distinct products, Xbox and OneDrive might seems to be close at hand. Like breadcrumbs, clues are laid out for sleuths to follow, revealing that almost everything is in place for Xbox Music users to upload and keep their tunes on OneDrive's spacious cloud storage. All it might actually need is for Microsoft to give the signal and flip the switch.
Microsoft has been rather busy in consolidating and tying up its sometimes disparate products into a more organic whole. In particular, its OneDrive cloud storage solution has recently started rearing its head in many places, especially in places where it makes sense, like OneNote integration, for example. But Xbox, Microsoft's brand encompassing not just games but multimedia as well, has so far been untouched by OneDrive. At least until now. Or rather, soon.
There was talk last May that Microsoft was preparing an Xbox Music locker system where users will be able to upload their own music files to the cloud. Naturally, that would Microsoft's cloud, a.k.a. OneDrive. Fast-forward a few months, that day might be close at hand. The clues to this could be found inside the Xbox Music web interface itself, as well as some hints inside OneDrive. Text hidden inside the site's code also make references to this integration:
"Anyone with a Microsoft account in select regions* can add music to OneDrive and play it on Xbox Music."

"Connect OneDrive with Xbox Music and play your personal music files on all your devices."

"Music you upload to OneDrive can be streamed from your collection on all your Xbox Music devices."

"Upload the music you already own to OneDrive and we'll add it to your Xbox Music collection"

"All the songs in your OneDrive Music folder are automatically added to your Xbox Music Library. You can play them from your Windows Phone 8.1, Windows 8.1 PC or tablet, Xbox, or on the web."
On the OneDrive side, a specially created Music folder will be the dumping ground for music files that will be accessible from all connected Xbox Music devices.
Xbox Music locker, as the feature is being called for now, seems quite prepped for a launch, which could happen any time soon now that everything seems to be in order. At least from the user interface side. That said, rumors also hold that the locker feature won't be immediately available to all markets supported by Xbox Music but only in Argentina, Australia, Austria, Belgium, Brazil, Canada, Denmark, Finland, France, Germany, Ireland, Italy, Mexico, Netherlands, New Zealand, Norway, Portugal, Spain, Sweden, Switzerland, United Kingdom, and United States.
VIA: Piptell, Windows Central