Xbox Live Preview video demo: new Netflix UI, Avatar marketplace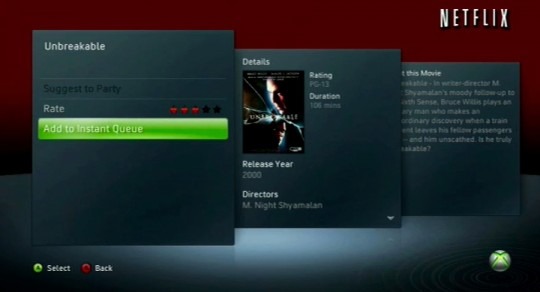 Invitations to Microsoft's
have begun to hit Xbox 360 owners, and rather than sit hunched over their consoles rubbing their hands and gloating about having access two weeks ahead of everyone else, some are sharing video of the new enhancements. 
has shot a video demo focusing on one of the most eagerly anticipated changes, the 10-foot interface for Netflix Instant Viewing.
Video after the cut
As columnist Michael Gartenberg mused
, a 10-foot interface – designed to be navigated from your sofa, rather than up close as you would be when using a laptop or computer – is essential if your product is going to break into the lounge.  Along with Netflix's new UI, Zatz shows the avatar marketplace and walks through Microsoft's release notes.
The reason we're so excited about the Netflix changes is that now users will be able to queue up new titles from their Xbox 360, rather than having to do that on a computer first.  The Xbox Live update will go out to all users from August 11th.