Xbox LIVE 1080p video store, Facebook, Last.fm & Netflix browsing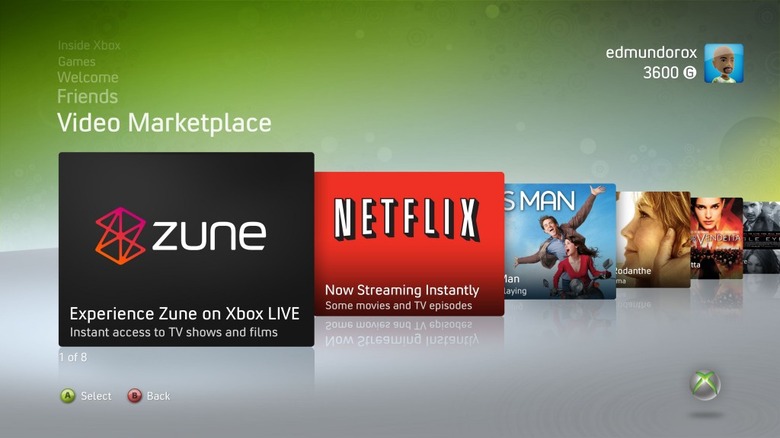 Microsoft have announced updates for the Xbox LIVE service, including 1080p high-definition downloads in the Video Marketplace, Facebook and Last.fm integration and even Twitter.  Netflix has also received a usability boost, with full catalog browsing now possible instead of merely viewing your existing movie queue, and Movie Party - which allows you to collaboratively watch the same title, and chat either through IM or voice, with friends in different locations – is now confirmed.
The HD video downloads service now gets Zune branding, and thanks to some nifty buffering technology title playback is now "nearly instantaneous".  Various bitrates will be offered, ranging from low quality for speedy downloads, and all the way up to 1080p with 5.1 surround sound.  Microsoft also promise a "disc in the drive" user experience, with glitch-free fast forward and rewind.  The US, UK and Ireland get full Netflix access or on-demand Sky TV, region permitting, while general movie and TV downloads are available in the existing eight countries together with ten new: Australia, Austria, Belgium, Denmark, Finland, Netherlands, New Zealand, Norway, Sweden and Switzerland.
As for Facebook integration, not only will Xbox 360 users be able to access their profiles, update statuses, view pictures and leave comments, the system will integrate with Facebook Connect to share updates, achievements and even screenshots from games.  The first title to support the functionality will be Tiger Woods PGA TOUR.  Finally, Last.fm will deliver streaming music through free, personalized radio stations, and share them with other contacts.  Users will require Xbox LIVE Gold membership to access it.