Xbox Games with Gold May 2018 lineup features MGS5, Vanquish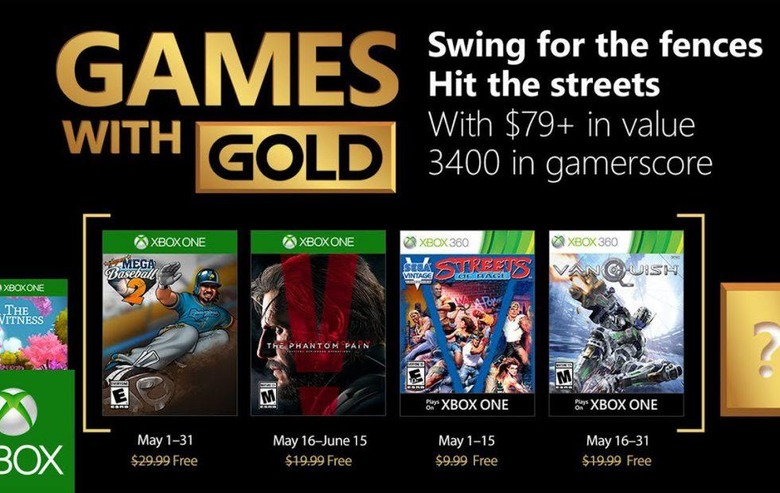 Microsoft has revealed the May 2018 lineup of free games available through the Xbox Live Games with Gold program. Xbox Live Gold subscribers are treated to four titles each month; two Xbox One games and two Xbox 360 games, with the latter pair being backward compatible with the Xbox One. There's several great games in lineup, including the highly acclaimed Metal Gear Solid 5: The Phantom Pain.
MGS5 is one of the Xbox One games for May. First released in 2015, it's the final entry in the series from its visionary director Hideo Kojima. Praised by critics and players alike, MGS5 perfected the series' iconic stealth action gameplay while providing a large sandbox for missions to take place in. This title will be available to download for free from May 16th to June 15th.
The second Xbox One game is Super Mega Baseball 2, which is actually being released on May 1st, making this one of the rare times when a brand new game is featured in Games with Gold. The sequel features stylized visuals and plenty of customization options, while improving on the original with online multiplayer. Players can get it for free between May 1st and May 31st.
The two Xbox 360 titles are Sega Vintage Collection: Streets of Rage, which bundles all three games from the Sega Genesis' classic brawler series, and Vanquish, PlatinumGames' stylish third-person shooter from 2010 that many fans regard as a cult classic. Streets of Rage can be downloaded between May 1st and May 15th, while Vanquish is available from May 16th to May 31st, and both games are compatible with the Xbox One.
There's still time left to grab most of the titles from the Games with Gold April lineup, so don't forget to download them before it's too late. Especially The Witness and Dead Space 2!