Xbox games revealed for Windows 8 PCs for continued cross-platform action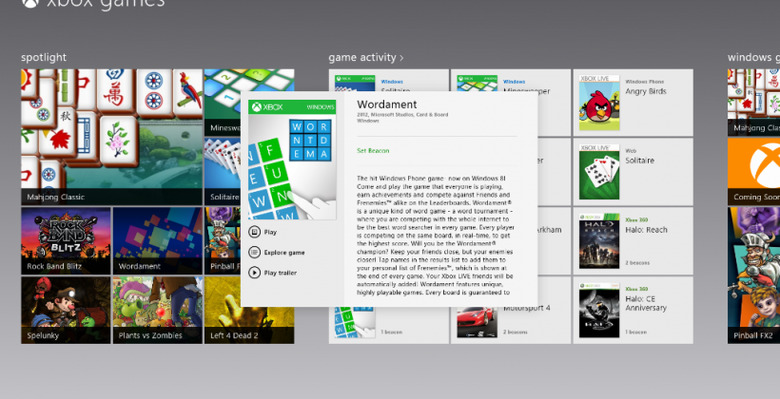 Microsoft is taking the next step towards full cross-brand integration with a giant set of Xbox game titles being announced for Windows 8. With this set of games coming to the Windows 8 desktop platform, Microsoft's top-selling Xbox brand expands to a whole new level – beyond even the first wave in Windows Phone 8 and glimpses of game cross-overs in Windows 7. The full list of games that Windows 8 will be working with right out of the gate will also integrate a list of high-powered developers that in come cases have been chomping at the bit to work with the desktop universe – this is it!
The Xbox brand is bringing in Rovio, Miniclip, Gameloft, ZeptoLab, Glu Mobile, and Halfbrick Studios amongst others hitting Windows 8 in the first wave of releases. The first wave of games will be popping up on October 26th and additional releases will be appearing throughout the rest of the year (and beyond, of course). The first full list includes 40 titles, some of them new and improved, some of them straight up moved over from the gaming console.
4 Elements II Special Edition

A World of Keflings

Adera: Episode 1

Adera: Episode 2

Adera: Episode 3

Angry Birds

Angry Birds Space

Big Buck Hunter Pro

BlazBlue Calamity Trigger

Collateral Damage

Crash Course GO

Cut the Rope

Disney Fairies

Dragon's Lair

Field & Stream Fishing

Fruit Ninja

Gravity Guy

Gunstringer: Dead Man Running

Hydro Thunder Hurricane

IloMilo

iStunt 2

Jetpack Joyride

Kinectimals Unleashed

Microsoft Mahjong

Microsoft Minesweeper

Microsoft Solitaire Collection

Monster Island

PAC-MAN Championship Edition DX

Pinball FX 2

Reckless Racing Ultimate

Rocket Riot 3D

Shark Dash

Shuffle Party

Skulls of the Shogun

Taptiles

Team Crossword

The Harvest HD

Toy Soldiers Cold War

Wordament

Zombies!!!
This list of games will be working with Xbox Achievements and will have features from the platform as well in some cases. Xbox leaderboards, multiplayer modes, and friend connections will be included on a select number of games for Windows 8. Microsoft is making the case for gamers that more than one machine, more than one operating system, more than one piece of hardware is the way to go. Expect Windows Phone 8 also to have further Xbox brand integration as it appears later this year.
Have a peek at our Windows 8 tag link for the giant wave of Windows 8 machines that have been released at IFA 2012, and stay tuned as Microsoft teams with additional manufacturers of high-quality machines for their next-generation OS. It's time to touch!
[via Windows Steam]