Xbox Adaptive Controller official, and it's fascinating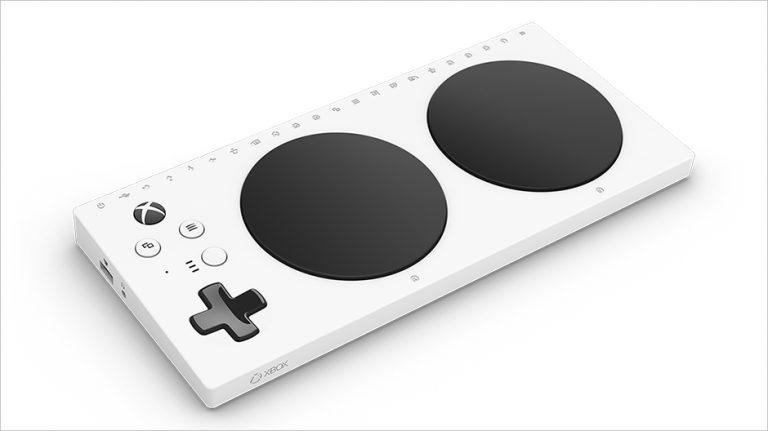 Earlier this week, an Xbox controller with a very interesting shape and design leaked. At the time of the leak, we were told it was an accessibility controller, meant for people who have a difficult time using a standard gamepad. Now, just a few days later, Microsoft has officially announced the device as the Xbox Adaptive Controller, and it's every bit as cool as Monday's leak suggested it would be.
Just as we were
told at the beginning of the week
, this controller was designed from the ground up with accessibility in mind. At first glance, the button layout will seem strange to anyone who is used to the standard Xbox One controller, with its two oversized A and B buttons. Just like a regular gamepad, the Adaptive Controller also features the Xbox One's standard D-pad, open, menu, and Xbox buttons as well.
The buttons on the face are only half of the story, though. Along the top edge of the Adaptive Controller is a row of 3.5mm jacks, with each one representing a different button on the Xbox One gamepad by default. Users can connect a variety of different switches and buttons to the controller through those jacks, giving them a large amount of flexibility when it comes to picking a control scheme that is comfortable and effective.
The controller itself is charged via USB-C, and features a USB port to connect additional peripherals like joysticks. Even better is that any button can be remapped using the Xbox Accessories app, and it can be used in tandem with a standard controller through Xbox One's co-pilot feature. All of this should allow gamers to find a layout that works for them, regardless of their disability.
In the end, this sounds like a great device that'll mean more people get to play the games they love, and that's a wonderful thing. We'll see the Xbox Adaptive Controller launch later this year on the Microsoft Store at a $99.99 price point. In the meantime, be sure to stop by
to read about all of the organizations Microsoft partnered with to make the Xbox Adaptive Controller a reality.