Microsoft's Xbox One accessibility controller just leaked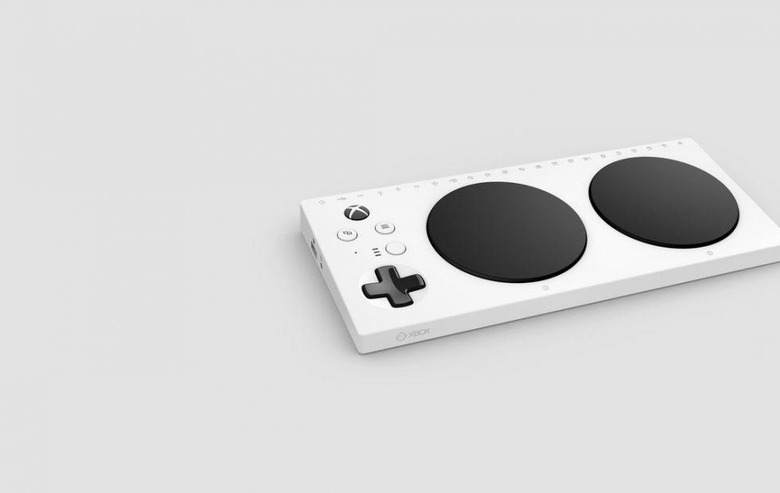 Gaming is a great hobby, but it can certainly be frustrating for those who have issues using a standard controller. Microsoft might be doing something to fix that with a new Xbox controller centered around accessibility. Renders of the unannounced controller have just leaked out, and it certainly looks a lot different than the standard Xbox One gamepad.
The render was discovered by Twitter user h0x0d and first reported by Windows Central. The most attention-grabbing things about it are its oversized A and B buttons, and the current assumption is that these buttons will be programmable. The controller also features the standard D-Pad, along with the menu, view, and Xbox buttons we're used to seeing on pretty much every Xbox One gamepad variant out there.
At this point, we're basically guessing at what this controller can do. The image is the only thing that's been leaked so far, so without accompanying details, we're left to divine what we can from the picture alone. Still, the image makes it seem like this controller is fairly far along in development, which means it might not be very long before it gets an official reveal.
In fact, we might be waiting less than a month before we have official confirmation of this device. E3 2018 is coming up quickly, and it would make the perfect place for Microsoft to announce its accessibility-focused gamepad. While it won't be the star of Microsoft's E3 press conference, it isn't hard to imagine Microsoft devoting some time to it.
We'll just have to wait and see what Microsoft does at E3. One thing is for sure: launching a controller centered around accessibility isn't a bad idea at all, especially if it means more people can use an Xbox to play games. We'll more than likely find out if this leak is legitimate before long, so stay tuned.