Xbox 360 price drop for Europe gets official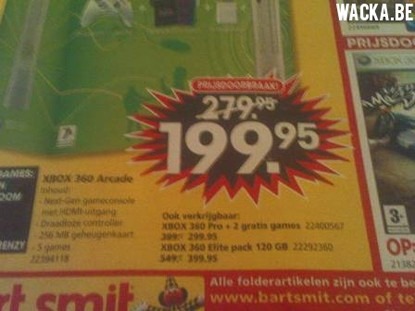 For the last week or two we've been hearing rumors about a price drop for the Xbox 360 in Europe. While the majority of our readers are living here in the US, I'm sure that there will be plenty of readers excited to hear that Microsoft has just confirmed these rumors.
From Friday, 14th March, Xbox 360, which includes a 20GB hard drive and one wireless controller, will have an ERP of €269.99/£199.99 – a saving of €80/£50 on the current ERP. The Xbox 360 Elite, which comes with a massive 120GB hard drive enabling consumers to store huge quantities of content downloaded from Xbox LIVE™ Marketplace as well as their own music, will have an ERP of €369.99/£259.99 – a saving of €80/£40. The Xbox 360 Arcade console, perfect for those wishing to make their first foray into the gaming and entertainment world of Xbox, will have an ERP of €199.99/£159.99 – a saving of €80/£20.
Microsoft has managed to unseat Nintendo with the cheapest current-gen console on the market. Well, in Europe at least. Even better, you can find Xbox 360s in stock practically anywhere.