X-mini Happy PMP & pop-out speaker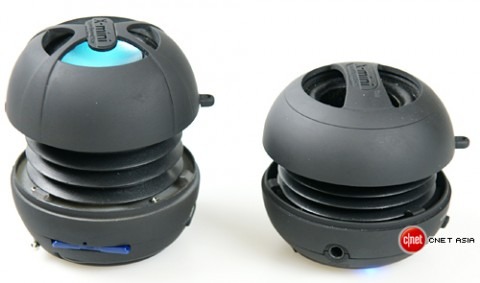 XM-I have introduced a new PMP version of their expanding capsule speaker, the X-mini Happy.  Keeping roughly the same design and tweeter of the X-mini II (shown on the right), the Happy adds an SD/SDHC slot for up to 8GB cards and onboard mediaplayer, meaning it can be used as a palm-sized music system.
The hardware changes are subtle, and only really obvious when both speakers are sat together.  Taller, so as to fit in the card slot and PMP hardware, the X-mini Happy gets a new multi-functional volume control: pressing down toggles play/pause, holding down powers on/off, and sliding left/right skips tracks.  To actually adjust volume you have to hold down and slide; there's a handy dedicated mute button, too.
Underneath there's the same short 3.5mm audio cable, while up top XM-I have redesigned the tweeter guard so as to better avoid damage to the cone.  You'll be able to string together multiple X-mini Happy units together, too, using the "modular buddy jack"; battery life is expected to amount to 11hrs speaker use, or 6hrs PMP use.
The XM-I X-mini Happy is expected to launch globally come Q3; no price has been suggested as yet.
[Thanks Yutaka!]