X-Men "themed" LG X series tipped to land in the US in July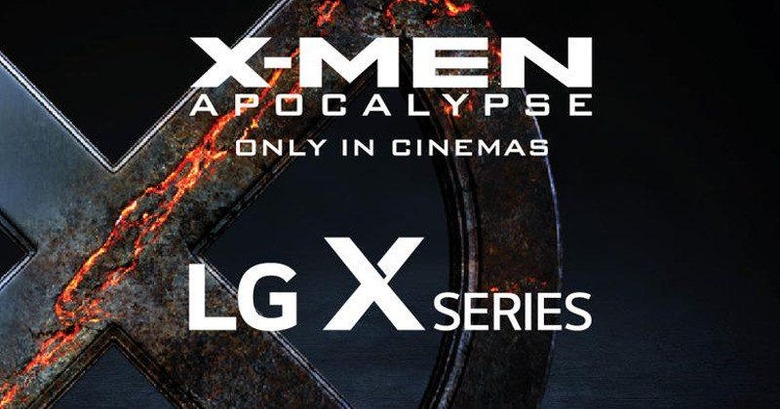 Perhaps LG has clairvoyant mutants in its employ who foresaw how the company could make it big with an "X" branded smartphone lineup. Or, more realistically, LG just had the good fortune of having an X series ready by the time the not-so-bad X-Men: Apocalypse hit theaters. Either way, the OEM isn't shy about capitalizing on the attention that the film is getting. Inside sources claim that LG will launch its mid-range X series smartphones in the US, Europe, and Latin America in July. And, of course, it is matching those devices with Marvel's most famous mutants.
The LG X cam and X screen were actually announced early this year at MWC 2016, predating the launch of the film. Then again, the latest X-Men installment has been in production long before that. The rationale for the X series is to bring some of the flagship's features to more affordable handsets. The X cam, for example, would inherit the LG G5's inclination towards photography to some extent, while the X screen gets a second screen like the LG V10.
Just yesterday we saw the revelation of an X style and X power at an LG event in Ukranian capital of Kiev. The LG X power did live up to its name with a 4,100 mAh battery. The LG X style, on the other hand, was harder to pin down. LG's leaked PR images associate the smartphone with Mystique's "Fabulously Flawless Looks". Again, hard to see in yesterday's photos, though the X style's blue patterned rear could perhaps be a link to Mystique's skin.
The X max and X mach are completely new to our ears. The LG X max is described as a "big beauty" like Henry "Beast" McCoy, so it's probably safe to presume it will be phablet sized. Quicksilver's "Extreme Super Speed" is used for the X mach. We can only guess it will have the fastest processor of the bunch.
LG's use of the X-Men branding to market otherwise totally unrelated devices could go either way. Reception of X-Men: Apocalypse has been rather mixed, some calling it the best of the three most recent X-Men films while others curse it for being the worst. Suffice it to say, it has people talking, whether they liked the film or not, which is probably what LG wants anyway.
VIA: ZDNET