X-37B Air Force space plane set for mysterious Dec 11 blast-off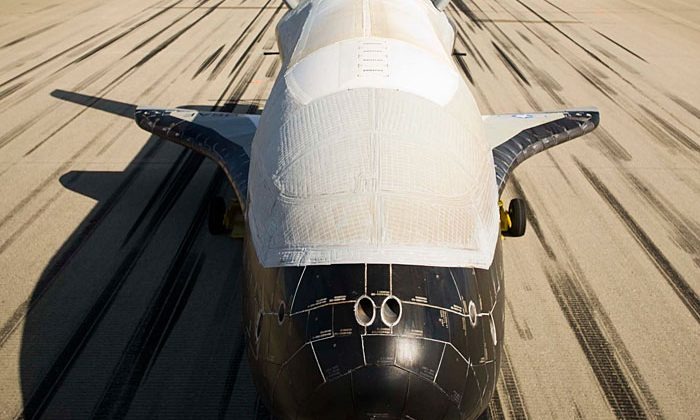 US Air Force robo-space plane X-37B will begin its third mission on Tuesday,it's been confirmed, finally taking a classified payload into Earth orbit after having been delayed by launch rocket safety testing. The flight of the mysterious plane – also known as the Orbital Test Vehicle, or OTV-3 – was intended to take place earlier this year, but plans were frozen after a Delta 4 rocket fault back in October. Exactly what the X-36B is carrying, and how long it will be in orbit for, are unclear.
In fact, the only real purpose of the OTV-3 mission that the Air Force has publicly shared is its demonstration of reusability. The OTV-3 vehicle is actually the same unit as was used as OTV-1, refurbished and redeployed "to demonstrate a reliable, reusable, unmanned space test platform for the United States Air Force." OTV-1 returned to Earth in December 2010.
The Boeing Government Space Systems made X-37B is 8.8m long and 4.5m wide, with a 2.1 x 1.2m payload system that has been the cause of some controversy. While the Air Force has generally been vague as to its intentions, there has been speculation that the X-37B is intended as a spy platform or even as a space weapons deployment system.
Whatever the payload, the OTV-3 has been grounded for some months now, after a Delta 4 upper-stage engine underperformed during an October GPS satellite launch. Despite the fact that OTV-3 will use Atlas 5 rockets – with different engines – all launches were postponed while the cause of the flaw was hunted down.
"The ULA investigation has concluded that a fuel leak occurred in a specific area of the interior of the thrust chamber" the United Launch Alliance, manufacturer of the Delta 4 and Atlas 5 rockets, said in a statement, "and that this leak started during the first engine start sequence." Both OTV-1 and OTV-2 were launched using Atlas 5 rockets.
OTV-1 spent 224 days in space, while OTV-2 returned to Earth in June this year after having spent 469 days in orbit. The second mission saw accusations that the autonomous craft was being used to spy on the Chinese Tiangong 1 unmanned spacelab.
[via Space]