WWDC 2007: New Leopard features shown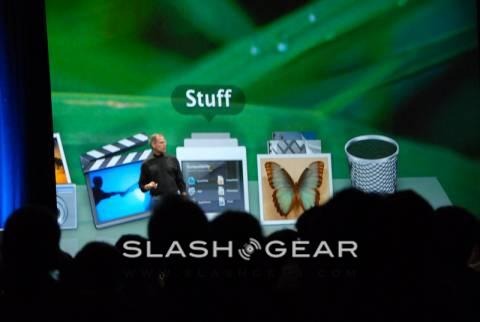 Apple took the opportunity at today's WWDC keynote to demonstrate ten new Leopard features. The highly-anticipated OS upgrade comes after the runaway success of OS X Tiger, with two-thirds of machines running that system. Apparently Leopard will introduce more than 300 new features.
First off, Jobs showed the new Leopard desktop with a narrower dock and it and the menu bar being transparent. Desktop stacks are newly tidied, either fanning out from the dock or popping up in a grid; there's a default stack called "downloads" which sticks in place. Each new document defaults to the front of the stack, and you can put applications there too and use stacks as an app-launcher.
Next, there's a new Finder and sidebar with the ability to search and browse other networked computers and, if you're a .Mac subscriber, share stuff online with other machines. A new CoverFlow view can not only show album covers and artwork but scroll through PDFs, preview movies and more, viewing all shared folders available to you as if they were on the local machine.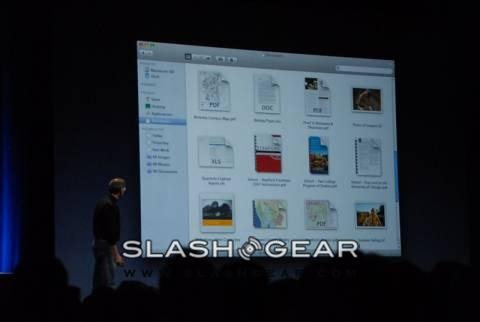 Preset "smart searches" are built-in, and they can be customised as you develop your filing structure. All ip addresses you use are saved and encrypted allowing for seamless connections; you can even drag and drop media between computers while in CoverFlow.
Leopard will be the first mainstream 64-bit OS, and there'll even be a version that can run 32-bit and 64-bit applications side-by-side. System intensive applications like image processing will see huge improvements; in the WWDC demo (see our video coming soon) a 32-bit system took 81 seconds to apply several filters to a 4GB photo, while the 64-bit system (even with a 32-bit app running concurrently) took just 28 seconds.
Bootcamp, Apple's software to allow dual-booting into both OS X and Windows, is also being improved; now it comes built-in, and can run XP and Vista at native speed. Apple are calling it complementary to Parallels and VMWare, rather than an all-out assault on those third-party apps.
Next up is Spaces, effectively a CoverFlow-style array of multiple desktops. You can drag and drop running applications between different Spaces, and there's sensible management of things like audio, which only plays for the Space which is currently active. Holding down the arrow-keys fans through the Spaces like a roladex.
The Dashboard is getting a new widget, especially to cater to Apple's friends in the movie industry. Searching show times, watching streaming previews and even buying tickets via Fandango will all be possible, and the Movie Times widget will be preloaded on each Leopard system. So far there are over 3,000 third-party widgets out there, and that number should shoot up with the introduction of the WebClip tool, which easily takes a webpage and turns it into a widget via Safari. Considering the iPhone is also set to support Widgets this should see some of the third-party app concerns people have had satisfied.
In his demo, Jobs used a scissors tool to snip out the "main story" area of Yahoo!'s homepage, instantly turning it into a new widget that will automatically update; it's a similar process to grab things like Dilbert's comic-of-the-day or the National Geographic photo-of-the-day, and then you can pretty them up with customisable shading and borders. Is it just me or is anyone reminded of Microsoft's Active Desktop?
iChat is getting an update too, with ACC-Low Delay audio for higher quality sound, tabbed chat windows, photobooth effects and different backgrounds. You can also share photos, videos and documents from within the chat window, using iChat Theater linked up with iPhoto, and apply real-time voice processing for instance making your mom sound like a robot. It all uses Quick Look, meaning you can simply drag a video clip to the conversation and it'll automatically begin streaming. Backgrounds require you to step out of frame for a moment, and then when you move back in iChat automatically maps you into the picture with the image behind you. You can also apply real-time video effects, flipping and twisting the image, changing colours or making yourself transparent.
Finally, Time Machine should hopefully put an end to user-guilt over not backing up. It automatically backs up everything to either a local or network drive, with a one-click interface that should mean anyone can get using it, and then lets you search back in time using Spotlight or simply scrolling back through the days. A single hard-drive plugged into an Airport Base Station can keep saved copies from all of your networked Macs, lets you preview them, and then you can restore individual files or a full system with a single click. As Steve says, "our goal was to make it so simple that people would actually use it."
Leopard will cost $129 at launch.
Remember, SlashGear is running a Live Webcast of the WWDC 2007 Keynote – check it out!