WowWee Rovio WiFi surveillance robot available for pre-order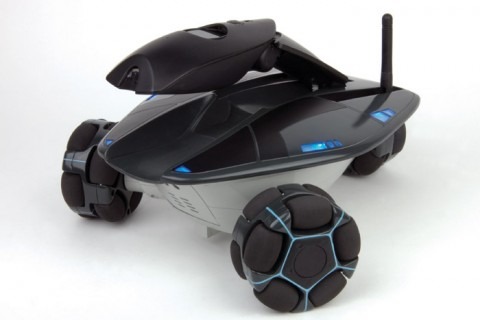 We may receive a commission on purchases made from links.
WowWee's Rovio remote surveillance robot, announced at CES 2008, has finally shown up for pre-order in the US.  Previously an exclusive with UK-based retailer Red5, the WiFi-enabled mobile webcam platform is now listed at Hammacher Schlemmer (although, as usual, not by brand name) with a pre-order tag of $299.  Ship date is given as September 26th.Amazon also have a record for the Rovio, although it is listed as unavailable with neither price nor shipment date.  Other retailers that commonly stock WowWee products, such as Target and WalMart, are yet to list it, and the company's own e-store still makes no mention.
The Rovio uses the same omni-directional three-wheeled base as seen on other WowWee robots, but rather than a "personality" 'bot, tops it with a movable arm bearing a webcam.  Connecting to your router via WiFi b/g, it can be set to follow up to ten pre-programmed routes, detecting movement using infrared sensors and streaming footage (with audio) in VGA-resolution MPEG4 format over your broadband.  It also has a built-in speaker for two-way conversations.  Battery life is stated as two hours, with the Rovio able to locate its charging station and automatically dock.
The charging station also includes Evolution Robotic's Northstar technology, which can create a virtual map of the room for Rovio to follow.  The video below demonstrates how Rovio can return to its preset path even if distracted.
[Thanks Robert!]