WowWee Rovio to get Skype control with RoboDance 5 app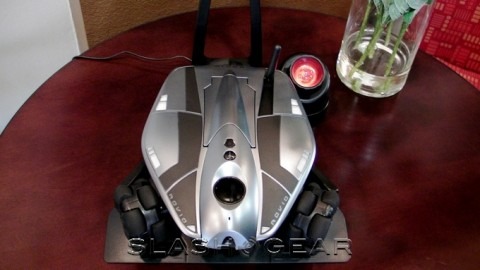 When we looked at WowWee's Rovio last month, one thing we were certain of was its mod-potential.  As of next year, one of the more ambitious hacks will go live: RoboDance 5, with added support for Skype.  While setting up the Rovio's WiFi webcam streaming currently requires a little router tinkering, RoboDance 5 will utilize Skype's zero-config setup to instantly connect the robot and a remote client, whether that client be Windows or Mac, or even a smartphone.
"By using Skype, the need to expose Rovio's ports to the Internet (port forwarding) for remote access is eliminated.  Also eliminated is the need for a Dynamic domain forwarding service to create a public URL to get to Rovio externally.  This frees the Rovio owner from having to learn the intricacies of their router in order to forward those ports, and eliminates the need to set up Rovio to interface with a Dynamic domain forwarding service too" Robert Oschler, RoboDance
By using Skype, it also means that all two-way traffic between the remote user and Rovio is encrypted, including the user name & password, video feed and audio feed.  In addition, those media feeds are higher quality than Rovio's usual fare, thanks to Skype's more developed compression and bandwidth-tailoring abilities. 
There's also the ability to have your robot read out Twitter messages, weather forecasts, act as a Skype phone and more.  That's on top of the existing version of RoboDance, which has Wiimote control, a drag-&-drop script editor, voice control and more.  If you're a Rovio owner – or have a Robosapien, Robosapien V2, i-SOBOT, Robopet, Roboraptor, Roboreptile, Roboquad and Animatronics T-Rex, as the software (though not all the features) is compatible with them all – then this could be your dream come true.  Plus, it's free.  Roll on March 2009 for its release.