WowWee Rovio Reviewed: Fantastic Mobile Webcam Platform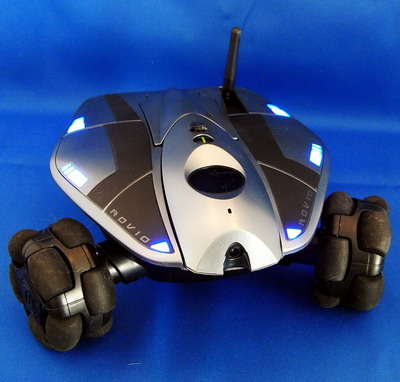 The first full review of WowWee's Rovio mobile WiFi webcam has gone up, and if you were hoping the news would be bad and save you from spending $299 on a must-have robot, think again.  While we knew the tech specs were tempting – WiFi, poseable webcam, control either locally, from preset routines or via a web-interface – it turns out to be more than just a passing entertainment and suited to all sorts of robot experimentation.
Video demo of Rovio in action after the cut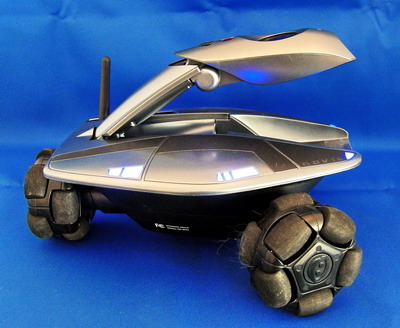 Getting particular kudos is the painless setup – five minutes from box to play – and "unparallelled mobility", courtesy of the three omnidirectional wheels.  Re-entering the charging dock, something you really don't want to go wrong if you're halfway across the world, is similarly slick.
There are a couple of caveats, possibly the biggest being the lack of support for WPA WiFi encryption in the current firmware build, only WEP.  Apparently WowWee are working on an upgrade.  There's also no audio functionality in browsers other than Internet Explorer.
Still, neither of those facts are enough to dissuade Robots-Dreams in their opinion that the WowWee Rovio is likely to be "the hottest robot for the upcoming holiday season, and for a long time to come":
"This robots functionality, usefulness, styling, and ease of use sets new standards. Not only is it a fantastic mobile webcam platform, it also lends itself to other applications. We can easily imagine colleges and research labs using ROVIO as a robotic platform to investigate swarming, or, on the lighter side, a new robot soccer league" Robots-Dreams
[Thanks Robert!]