WowWee Mr Personality robot features in new demo video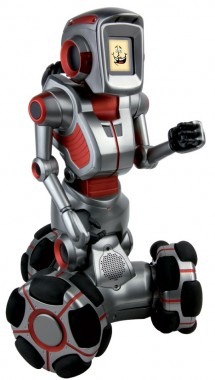 Back when WowWee announced their impressive Rovio WiFi mobile webcam, they also showed the creepy Mr Personality robot.  Based on the same omni-directional platform as the Rovio and the Tri-Bot, Mr Personality is a gurning, giggling, wise-cracking "robot companion" with an LCD display for a face.  I was hoping WowWee had forgotten about Mr Personality – because he scares me – but sadly not; there's a new video of the monstrous beast in action in preparation for his imminent launch.
The robot comes with a pre-programmed personality, but you can replace that with newly downloaded personas via the SD slot.  There's also a USB port to hook him up to your PC.  Both autonomous and remote control modes are supported, with the former letting Mr Personality run riot – telling jokes, playing games – while with the latter you can direct him into the nearest cupboard.
Mr Personality is currently listed as "coming soon" on the WowWee online store, where he'll retail for $299.  You can see the demo video of Mr Personality here.
[via RoboCommunity]