WowWee Hoverpod R/C hovercraft coming July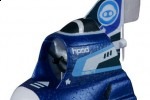 Robot-maker WowWee's latest toy has been previewed, and if piloting their Bladestar helicopter left you in fear of your walls, lights and pets, then the WowWee Hoverpod should prove a little more manageable.  A micro-hovercraft made from impact-resistant EPP foam, the Hoverpod uses WowWee's usual IR remote for controlling and recharging.
A ten minute re-juice from the battery-powered remote is good for five minutes of play, with the Hoverpod apparently capable of venturing off of smooth wooden and tiled floors and up onto short carpet.  The 2-channel digital proportional remote controls the main prop, for drive, and the rudder, for steering.
Crashes should be less than fatal, as the EPP body is tough and the propeller mainly enclosed; that also makes it a little more finger-friendly, we'd imagine.  The WowWee Hoverpod is expected to land in the US in July 2009, with an expected MRSP of $19.99.