World's Fastest GPU Sapphire ATOMIC HD 4870 X2 gets liquid-cooled by Asetek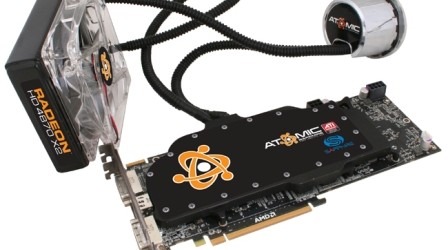 The high performance yet ultra quiet ATI Radeon HD 4870 X2 was the result of Asetek's closed loop liquid cooling system which utilized workstation-thermal technology over PC. It enables much-faster clocks speeds to improve GPU overall performance while manage to improve heat transfer with its low-noise liquid cooler system. Asetex has announced the same cooling system has been chosen by SAPPHIRE Technology for its latest ATOMIC HD 4870 X2 ultra high performance single-slot video card.
Incorporated a single PCB with an overclocked version of ATI's dual-GPU with dual-256 bit memory interface, dual 1GB memory support running at 1000Mhz GDDR5 and watercooling loop pre-assembled Asetek via an internal CrossFire; the ATOMIC HD 4870 X2 , according to SAPPHIRE's VP of Marketing, is the World fastest video card with unprecedented performance.
At a suggested price of $699, all cooling elements are said to have connected via high-quality Teflon tubing to improve the life cycle of the product. The whole system is maintenance free, pre-charged, factory assembled, and helium leak tested prior to shipment.
SAN JOSE, Calf. December 18, 2008 – Asetek announced today that its popular LCLC liquid cooling solution has been chosen by SAPPHIRE Technology to cool its new, high performance ATOMIC HD 4870 X2 single-slot graphics card. Believed to be the fastest graphics card ever, the limited edition ATOMIC is geared for the most extreme gaming, entertainment, and graphics enthusiast.

"Our single-slot ATOMIC HD 4870 X2 delivers the fastest PC graphics on the planet," states Adrian Thompson, SAPPHIRE's VP of Marketing. "This is an amazing product—the fastest card in the world which needs the best cooling system available. Asetek's compact, low-noise liquid cooler makes the ATOMIC's unprecedented performance possible!"

"Gamers are always seeking 'king of the mountain performance' and looking for ways to easily—and safely—upgrade their systems to that ultimate level," notes Gary Baum, Asetek's Senior VP of Marketing and Sales. "SAPPHIRE's ATOMIC solution delivers this performance in an attractive, single-slot graphics solution that cools both the CPU AND the graphics card with virtually no audible noise. With Asetek liquid cooling, extreme gamers no longer need to tolerate loud fan noise nor maintenance headaches in order to achieve top gaming speeds."

At the heart of the SAPPHIRE ATOMIC is Asetek's closed loop liquid cooling system that brings workstation class thermal management to the PC. The LCLC enables faster clock speeds, outstanding graphics performance, and highly reliable, quiet operation—all without the maintenance typically required by traditional liquid cooling systems.

To achieve this performance, liquid coolant is circulated through the graphics card cooler, CPU cooler, and a chassis-mounted radiator by an integrated CPU cooler/pump that attaches onto the standard system CPU heat sink mountings (both AMD and Intel mounts are supplied). All cooling elements are connected via high-quality, minimum permeability Teflon tubing—minimizing fluid loss over the life of the product. The whole system is charged, factory sealed, and helium leak tested prior to shipment. No end user maintenance is required for the life of the product.

According to Baum, "We are extremely pleased to have been chosen by SAPPHIRE Technology as their thermal management partner. It is gratifying that leading systems integrators and premier OEMs throughout the world continue to recognize Asetek's advanced liquid cooling solutions as the most efficient, quiet, and reliable on the market today."