World Of Warcraft: Cataclysm Live And Up For Sale Now! What Are You Waiting For?!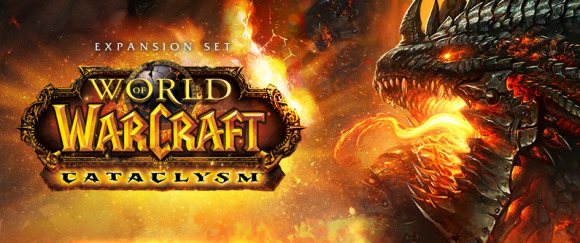 Feel free to submit your life back to the everlasting addiction of Warcraft in a brand spanking new expansion by the name of Cataclysm, right now, available today. You can choose to venture your way out of your cave and get a physical copy of the game at your local fun store or stay low in your seat, downloading and upgrading directly through Blizzard. Inside this expansion you'll find new zones, hundreds of new quests, unique dungeons, an increased level cap of 85 (WHO WILL BE FIRST?) and two completely new races – worgen and goblin (I'm surprised it took this long for them to give up a goblin!) A new age has begun!
You can upgrade online by heading over to Blizzard Account Management, or go to the store to find yourself an elite Collector's Edition which features a behind-the-scenes DVD, soundtrack, artwork book, exclusive WoW trading card game cards and starter packs, mousepad, the game, and best of all, an exclusive in-game pet, Lil' Deathwing! Check out the full press release below: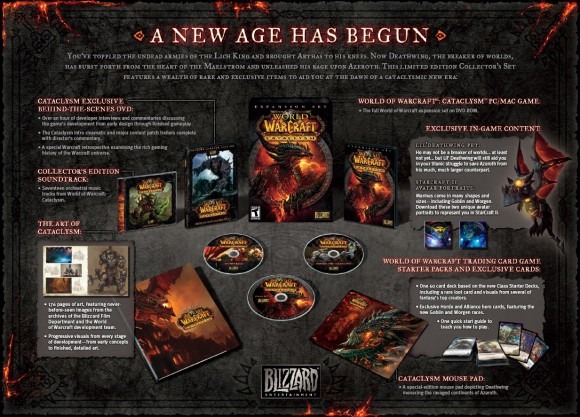 WORLD OF WARCRAFT®: CATACLYSM™

IN STORES NOW

Highly anticipated third expansion to the critically acclaimed massively multiplayer online role-playing game launches around the world this week

IRVINE, Calif. — December 7, 2010 — Blizzard Entertainment, Inc. today announced that World of Warcraft®: Cataclysm™, the highly anticipated third expansion for the world's most popular subscription-based massively multiplayer online role-playing game, is now on sale in stores throughout North America, Europe, Argentina, Chile, Russia, Southeast Asia, Australia, and New Zealand, and will be available beginning December 9 in Korea and the regions of Taiwan, Hong Kong, and Macau.

The expansion can now be purchased at retail stores on DVD-ROM for Windows® XP/Windows Vista®/Windows® 7 and Macintosh® at a suggested retail price of $39.99 USD. A special Collector's Edition packed with bonus items is also available exclusively from retailers for a suggested retail price of $79.99 USD. World of Warcraft: Cataclysm is also offered as a digital download through Battle.net® account management (www.battle.net/account/management) for $39.99 USD.

"Cataclysm adds an incredible amount of new content for players to explore, revitalizing the game world and building on everything we've learned since World of Warcraft launched over six years ago," said Mike Morhaime, CEO and cofounder of Blizzard Entertainment. "We thank all of our beta testers for helping make this our best expansion yet, and we're looking forward to seeing everyone in the new Azeroth."

In World of Warcraft: Cataclysm, the corrupted Dragon Aspect Deathwing has returned, and the world has been reshaped by the devastation left in his wake. In an effort to survive the planet-shattering cataclysm, two new playable races — worgen and goblins — join the struggle between the Alliance and the Horde. Players can now begin their journey to the new level cap of 85, discover newly revealed locations, acquire new levels of power, and come face to face with Deathwing in a battle to determine the fate of the world.

For more information on World of Warcraft: Cataclysm, visit the official website at http://www.worldofwarcraft.com/cataclysm/.

About Blizzard Entertainment, Inc.

Best known for blockbuster hits including World of Warcraft® and the Warcraft®, StarCraft®, and Diablo® series, Blizzard Entertainment, Inc. (www.blizzard.com), a division of Activision Blizzard (NASDAQ: ATVI), is a premier developer and publisher of entertainment software renowned for creating some of the industry's most critically acclaimed games. Blizzard Entertainment's track record includes twelve #1-selling games and multiple Game of the Year awards. The company's online-gaming service, Battle.net®, is one of the largest in the world, with millions of active players.

Cautionary Note Regarding Forward-looking Statements: Information in this press release that involves Blizzard Entertainment's expectations, plans, intentions or strategies regarding the future are forward-looking statements that are not facts and involve a number of risks and uncertainties. Blizzard Entertainment generally uses words such as "outlook," "will," "could," "would," "might," "remains," "to be," "plans," "believes," "may," "expects," "intends," "anticipates," "estimate," "future," "plan," "positioned," "potential," "project," "remain," "scheduled," "set to," "subject to," "upcoming" and similar expressions to identify forward-looking statements. Factors that could cause Blizzard Entertainment's actual future results to differ materially from those expressed in the forward-looking statements set forth in this release include, but are not limited to, sales levels of Blizzard Entertainment's titles, shifts in consumer spending trends, the impact of the current macroeconomic environment, the seasonal and cyclical nature of the interactive game market, declines in software pricing, product returns and price protection, product delays, retail acceptance of Blizzard Entertainment's products, competition from the used game market, industry competition and competition from other forms of entertainment, rapid changes in technology, industry standards and consumer preferences, including interest in specific genres such as real-time strategy, action–role-playing and massively multiplayer online games, protection of proprietary rights, litigation against Blizzard Entertainment, maintenance of relationships with key personnel, customers, licensees, licensors, vendors and third-party developers, including the ability to attract, retain and develop key personnel and developers who can create high quality "hit" titles, counterparty risks relating to customers, licensees, licensors and manufacturers, domestic and international economic, financial and political conditions and policies, foreign exchange rates and tax rates, and the identification of suitable future acquisition opportunities, and the other factors identified in the risk factors section of Activision Blizzard's most recent annual report on Form 10-K and any subsequent quarterly reports on Form 10-Q. The forward-looking statements in this release are based upon information available to Blizzard Entertainment and Activision Blizzard as of the date of this release, and neither Blizzard Entertainment nor Activision Blizzard assumes any obligation to update any such forward-looking statements. Forward-looking statements believed to be true when made may ultimately prove to be incorrect. These statements are not guarantees of the future performance of Blizzard Entertainment or Activision Blizzard and are subject to risks, uncertainties and other factors, some of which are beyond its control and may cause actual results to differ materially from current expectations.