WonderMedia SmartFrame supports IPTV, Windows 7 "Play To" streaming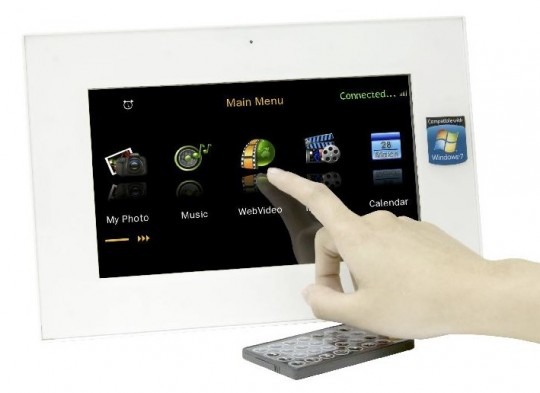 We've been historically harsh on digital photo frames here at SlashGear, callously tossing out anything that lacks wireless connectivity.  That given, we're understandably interested in WonderMedia's SmartFrame; while only a reference design right now, the touchscreen frame is apparently the first to carry that coveted "Compatible with Windows 7" badge.
That gives the SmartFrame more than just a fancy sticker to mess up its clean bezel with, though; it means that it's perfectly placed to use Windows 7's "Play To" feature which allows PC users to funnel content to different displays with a simple click.  The SmartFrame can show onboard video, photos and audio, or stream it from a DLNA compatible local network source; however it will also play internet-based content such as video, games, email and newsfeeds.
Lurking inside (and performing all of the magic) is WonderMedia's PRIZM chipset, an ARM-based board with integrated DSP and video processing together with networking hardware.  The company plan to use this SoC for future Windows 7-compatible media products, including media hubs and streamers.  No word when we might see them on shelves, however, nor with what company branding.
Press Release:
WonderMedia SmartFrame First Digital Photo Frame To Earn "Compatible with Windows 7" Logo

WonderMedia customers can confidently prepare exciting new SmartFrame-based devices able to leverage a collection of Windows 7 features designed to improve the user experience

Taipei, Taiwan, August 26, 2009 – WonderMedia Technologies, Inc, a leading innovator of feature-rich system-on-chip platforms, today announced that the WonderMedia SmartFrame Reference Design Kit (RDK) is the first Digital Photo Frame (DPF) Digital Media Renderer (DMR) to pass the "Compatible with Windows 7" logo program from Microsoft Corp.

Based on the WonderMedia PRIZM platform and controlled either through a touch interface or via PC, the WonderMedia SmartFrame is an Internet-enabled DPF that enhances the digital home environment by providing access not only to photos stored on local hard drives or online, but also email, games, video, news, documents and a whole host of web services.

DMRs developed around the WonderMedia SmartFrame RDK are able to connect to Windows 7-based PCs by using UPnP and Digital Living Network Alliance (DLNA) standards. With the PC acting as the controller, new Windows 7 features, such as the Windows Media Player Play To feature, make sharing media with networked devices truly user-friendly.

Qualifying for the "Compatible with Windows 7" logo program ensures that WonderMedia customers are able to reduce the time-to-market of a range of instant-on, Internet-centric electronic devices built around a platform with support for features that take advantage of the latest Windows 7 innovations, guaranteeing a reliable and trouble-free experience with the new operating system.

"We are delighted to be the first company to have a DPF DMR device certified as compatible with Microsoft's much-anticipated Windows 7," said Tzumu Lin, CEO of WonderMedia Technologies, Inc. "The WonderMedia SmartFrame RDK offers proven and certified building blocks for Windows 7-based devices, allowing end-users to enjoy the full Windows 7 experience and optimal system performance."

About the WonderMedia PRIZM Platform

The WonderMedia SmartFrame RDK is powered by the WonderMedia PRIZM platform – a leading-edge SoC technology that integrates a high performance ARM processor, programmable DSP core, and video decoding and processing hardware together with essential memory, networking and peripheral controllers.

Other WonderMedia PRIZM-based Networked Media Devices (NMDs) include the SmartPlayer, which takes content from a variety of sources such as websites, memory cards, content stored on DLNA-enabled digital media servers and USB storage devices, and displays it on a living room or bedroom TV, and the SmartTouch, which extends the functionality of the familiar DPF design to allow the display of pictures from a camera, movie playback, use of VoIP technology and constant access to web content like news, weather, podcasts, social networking applications and more, all at the touch of a finger.

More information on WonderMedia Smart designs and the WonderMedia PRIZM platform can be found at: www.wondermedia.com.tw