Wolfenstein 3D turns 20, goes free on the web and iOS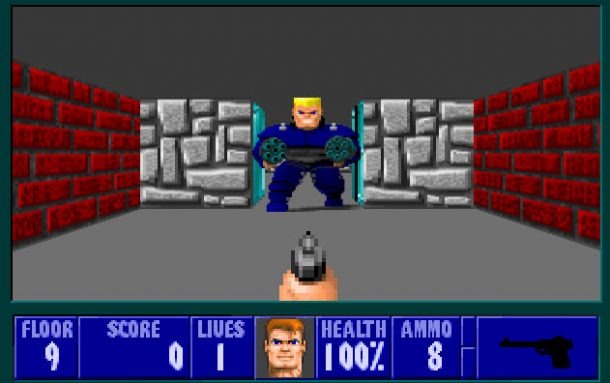 If you've played Halo, Modern Warfare or Team Fortress in the last week, take a moment to thank id Software. Twenty years ago last Saturday they published Wolfenstein 3D, forever placing a mark on first-person shooter gaming and giving a whole new generation good reason to hate Nazis. Bethesda Softworks, id's current owner and publisher, is celebrating by making the iOS game free for today (Wednesday) only, and publishing a free browser-based version for everyone.
Wolfenstein 3D debuted on Microsoft DOS, where its astonishingly fast and fluid shooter gameplay (for the time of course) made it an instant hit. The story followed an Allied soldier entering a German castle, discovering an army of zombies and eventually defeating both the undead and the Führer. id Software went on to make games based on the same engine and style, including the Doom and Quake series. Wolfenstein 3D was eventually ported to dozens of platforms, including the Super NES, Mac, Xbox Live, and Steam.
To take advantage of this deal, point your iPhone, iPod Touch or iPad to the iTunes App Store and the Wolfenstein 3D listing. (Sorry, Android users – a few unlicensed ports of Wolfenstein exist, but Bethesda hasn't published an official version and had the free ports removed from the Android Market in 2009.) Make sure and download it today – tomorrow it goes back to its regular $1.99 price tag. Everyone else can play the full game in any modern desktop web browser at wolfenstein.bethsoft.com.