WMF1 one-cup coffee machine wins points on style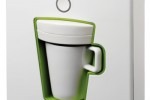 While normally I'd suggest avoiding those single-use coffee pod machines, since you don't know when the beans were roasted or ground, I've a feeling I'll give the WMF1 a pass simply because of the excellent design.  Intended to product a single cup of coffee, the WMF1 has a distinctive niche for the supplied mug and a straightforward loading system.

A mug-worth of water goes into the flip-up lid at the top, while your coffee pod – or "coffee pad" as they call it – goes into the cassette above the mug.  Press the button and it heats the water, pushes it through the coffee and hurrah, you've got your drink.
While this looks like something you'd see in a design magazine as a concept but not an actual production product, the best thing is you can actually buy the WMF1.  We're not sure how much it retails for, but it's available in kiwi, berry, stone, silver and black.
Update: Kenneth tells us it ranges from €79-99, depending on color.  Full pricing here.
[via The Red Ferret Journal]