WITNESS CONAN drive to SDCC in the Mad Max DOOF Wagon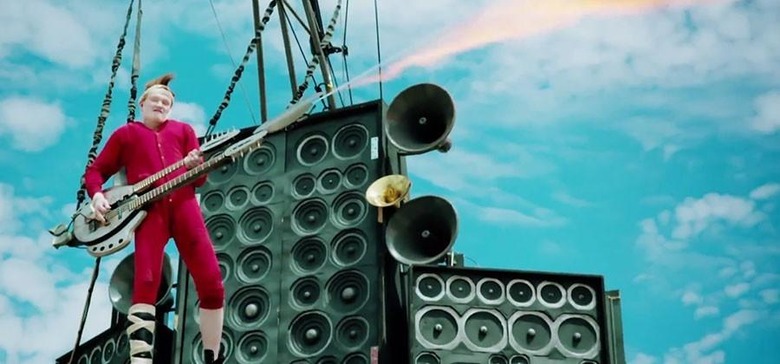 It's time to head to Comic-con – Conan O'Brien has already begun his journey in a MAD MAX vehicle. Those of you that've already seen the newest Mad Max movie will recognize this as the DOOF Wagon. That's the vehicle that plays music for the war party in the 2-hour chase sequence that spans the entire film. While Conan might not have his eyes gouged out like the real Doof guitar player, he's got the head bandages, the red jumpsuit, and the fire guitar to make the part his own.
In the film this vehicle plays the part of the driving sound for the war party. All the film's War Boys and Immortan Joe head out to capture what was stolen from them, and this vehicle's job is to provide the musical backdrop. War drums – like any good war party – but also an electric guitar played by a half-life character by the name of Doof.
The Doof Warrior or Coma-Doof Warrior, as he's also called, gets his name from the Australian term Doof, or Bush Doof, a sort of outdoor dance party. As you can imagine, the name really lends itself well to the action.
In the film the part is played by the artist iOTA. He's a musician and a character actor. He's epic. He's also played the part of The Great Gatsby's Trimalchio the orchestra leader in the 2013 version of the film.
The name DOOF doesn't actually come up in the film and you won't learn a whole lot about the character in the theater, but the creators have given him a legacy that won't soon be forgotten.
Especially now that Conan has decided to play the part.