With "Amazon Fire TV Edition", 4K TVs now come with Alexa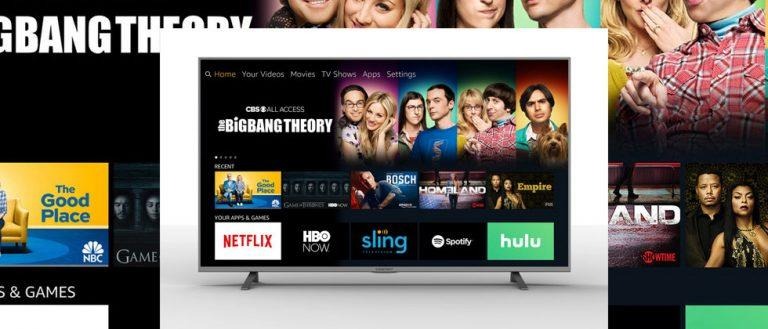 There's a way in which some brands of ultra-HD television are coming with Amazon's Alexa – and it's not a separate element. While users can still buy an Amazon TV box, there's a new set of televisions with the abilities of Amazon TV inside. They're branded with Amazon's new "Amazon Fire TV Edition" brand, and come with the Amazon Fire TV experience built in. That makes things easier for those users that don't want to take the time to plug in an extra piece of technology.
One collection of Amazon Fire TV Edition sets coming this month is made by Element Electronics. The folks at Element Electronics are bringing the first 4K televisions with Amazon Fire TV Edition innards to the market. With these televisions, users will have 4K Ultra HD picture quality, Amazon Fire TV smart tv abilities, and over-the-air TV broadcasts as well.
Each of these televisions will come with a Voice Remote able to work with Amazon Alexa right out the box. The first wave of these televisions from Element Electronics will be coming in four sizes – all of which will be available straight from Amazon online, of course. Pre-orders for these 4K tvs will be starting this week.
Users will find 43-, 50-, 55-, and massive 65-inch sets available from Element in Fire TV Edition models. Below is a list of technical product specifications from Element and Amazon for this first wave of TVs in the Fire TV Edition collection.
• Screen Sizes: 43-, 50-, 55-, 65-inch
• Resolution: 3840 x 2160 (4K UHD)
• Refresh Rate: 60Hz (Native) / 120Hz (Effective)
• Processor: Quad-core CPU/GPU Chipset
• Memory: 3GB memory, 16GB internal storage, expandable with USB/SD card
• Streaming Resolution: Streaming resolution at 4K Ultra HD (2160p), 1080p, 720p up to 60fps
• Other Features: Built-in Wi-Fi and Bluetooth (4.1); 4 HDMI, Component / Composite; Optical SPDIF Out
• Warranty: One year limited warranty
Pre-orders of all four 4K Amazon TV Edition televisions from Element Electronics will begin today. Each pre-order will include a free (otherwise $14.99) AmazonBasics Ultra Thin Indoor HD TV Antenna. In-store availability for these televisions will begin in June "at authorized retailers nationwide." MSRPs for the Element – Fire TV Edition models are $449 (43-inch), $549 (50-inch), $649 (55-inch) and $899 (65-inch).