With 925 lb-ft torque, the 2017 Ford F-Series Super Duty takes no chances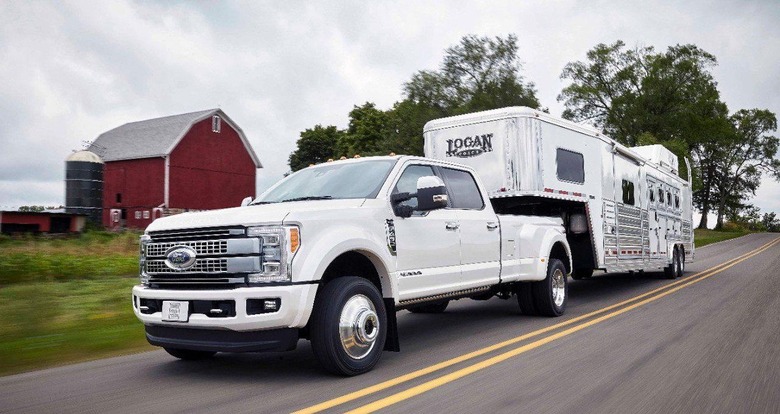 Huge towing power, plenty of engine grunt, and a few lessons in aluminum borrowed from its F-150 sibling: the 2017 Ford F-Series Super Duty is taking no chances. The 2017 version of the heavy-duty pickup has the highest towing capacity so far, along with more payload capacity than its beefy rivals.
The 2017 F-450 Super Duty SuperCrew 4x4, for instance, has a maximum gooseneck tow rating of 32,500 pounds. Maximum fifth-wheel towing climbs to 27,500 pounds, meanwhile.
That, Ford points out, is 1,290 pounds and 2,500 pounds more than the F-450's nearest competitor.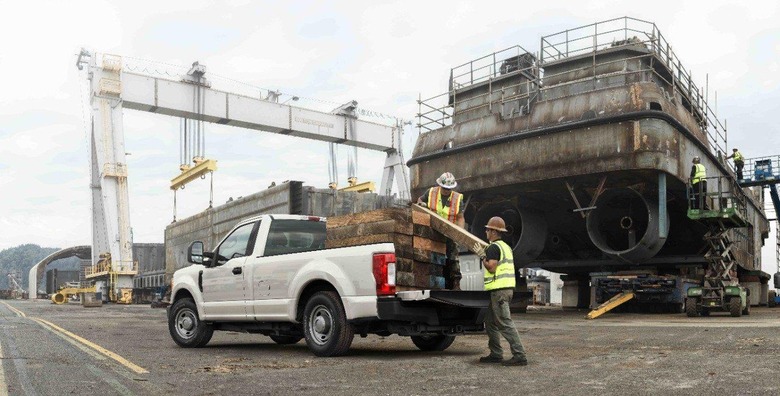 Even if it's just conventional towing, that's risen to 21,000 pounds and with no special, weight-distributing hitch involved. The F-250 and F-350 single-rear wheel are, of course, a little less capable at 18,000 pounds, though that's still top of the Super Duty's class.
Dragging that sort of weight behind you requires some driving skill, of course, though Ford is throwing some of the technology honed on the F-150 at its larger models. There's now adaptive cruise control and collision warning with brake support for heavier trailers, for instance, along with a high-level camera mounted up by the stop lamp to view the cargo box.
Ford's "Ultimate Trailer Tow Camera System", meanwhile, gives a bird's eye view of the truck courtesy of four cameras, and there's a trailer reverse guidance system along with an optional trailer camera that can be mounted on whatever is being towed.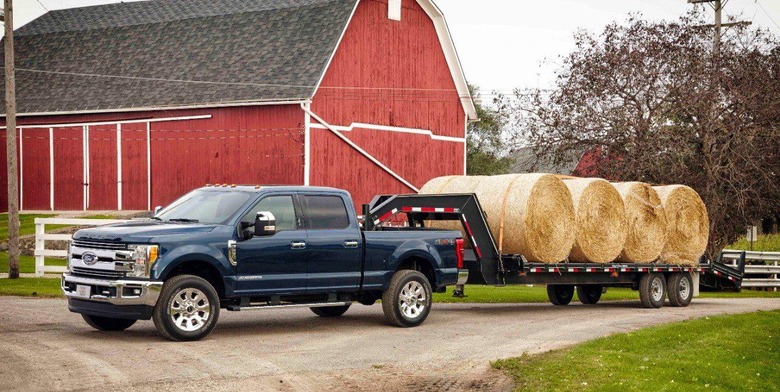 Even the blind-spot monitoring has been tweaked to handle the extra scale, able to figure out if there's something nearby that the driver can't see, even if your total length is 33 feet.
Something else you can't see is the new bodywork material. Though the new, fully-boxed frame uses over 95-percent high-strength steel – Ford claims it's up to 24 times stiffer than its predecessor – it's clad in an aluminum-alloy body that promises to be more resilient to dents. Ford had to fight public preconception about aluminum when it launched the newest version of the F-150, but it was a risk that paid off with more impressive economy numbers than its rivals.
In the case of the Super Duty, the standard engine is a 6.2-liter V8 with 385 HP and 430 lb-ft. of torque, while the 6.7-liter Power Stroke V8 turbo diesel – with 440 HP and a crazy 925 lb-ft. of torque – is an option. Both get a six-speed automatic transmission.
Economy numbers will be confirmed closer to launch, as will pricing.